What I didn't tell you about the hike to Everest Base Camp! (The Outtakes)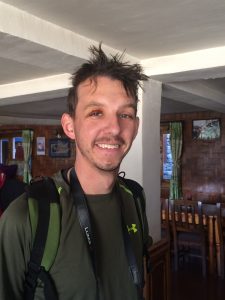 I've written several posts on the hike to Everest Base Camp, and most of them I wrote while hiking and still on the mountain. In an effort to not increase worry and anxiety amongst some of the readership of this blog, I decided to omit certain details about the hike while I was still in Nepal. Since I have now been back to England and provided in-person evidence of the fact I'm not missing any limbs, it's time to document the outtakes. In roughly order of occurrence here goes..
Day 1
Yes, I know, an outtake on Day 1. What a start, eh? Once I arrived at the hotel in Kathmandu, the rest of the group were going to take a walk into the town to pick up other bits of kit they needed. It is worth mention while the roads appear as lawless as the Wild West, the sidewalks/pavements are not exactly as well kept as the hedges in the world championship of topiary. We had just come out of a shop and were going round a corner, I was looking down at the pavement watching my step for any potholes or uneven ground. Unfortunately, what I did not notice was one of the millions of wires overhead hanging loose at eye level. What occurred was that I walked into one of these wires, it felt like I had been poked in the eye – not particularly painful but certainly a discomfort.
The wire had missed my eye but caught me in the eyelid, given I could see fine and it wasn't particularly painful we carried on back to the hotel. I did on the way realize it was bleeding and Lucy provided me a wet wipe to hold against the cut. It was not until a little later when we were getting the briefing for the trek that Jess noticed it looked a little deeper than initially thought and that it might need hospital attention. To cut to the chase, I ended up lying down on a bed in an A&E in Kathmandu, getting three stitches, with Nick carefully ensuring (to the point of having to buy them from a pharmacy) that clean needles were used.
I kept them in for 12 days until we were climbing back down and back in Namche Bazar. At this point Pemba took me to the local hospital to get the stiches out. Unfortunately, the A&E was closed, not to be deterred Pemba found one of the doctors/nurses living next door and got them to open the hospital up and get the stiches out. As I came out of the hospital there were a bunch of Aussies, they asked "All good mate?", I was like 'Yeah, all good, stiches out", in typical Aussie relaxed fashion they replied "Stiches out? Better than stiches in eh". Right now the scar is hardly visible from the stiches, so I can thoroughly recommend the A&E in Kathmandu if you need stiches – just ensure you have some clean needles with you!
Day 2 + 15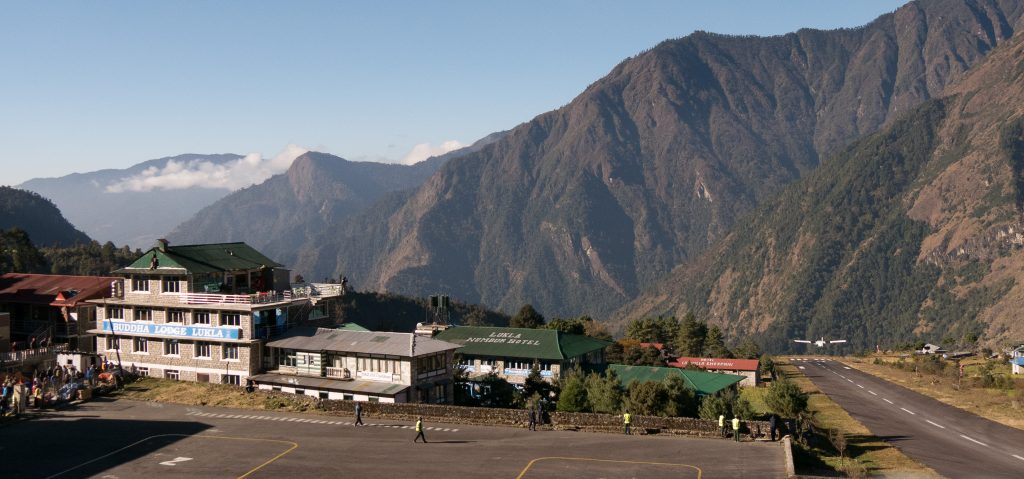 World's Most Dangerous Airport.
This is Lukla, where we truly started and ended the hike. There are a few good reasons it's considered the most dangerous but it's truthfully more than the airport but the plane ride also. I have never suffered such high turbulence as this little propeller plane, carrying about 16 passengers, feels to be at the whim of the natural elements as it is buffeted around – up/down, side to side. Then there's the small fact the airport has no radar system, so everything is based on voice communications. The runway is 1,729 feet; for perspective JFK's shortest runway is 8,400, Heathrow's shortest runway is 12,000 feet. At one end of those 1,729 feet is a cliff face, at the other side a sheer 3km drop into the valley. Oh, and the runway is on an 11% gradient towards the valley.  There's a great anecdote on how the airport was built, from Sir Edmund Hillary which is worth reading here.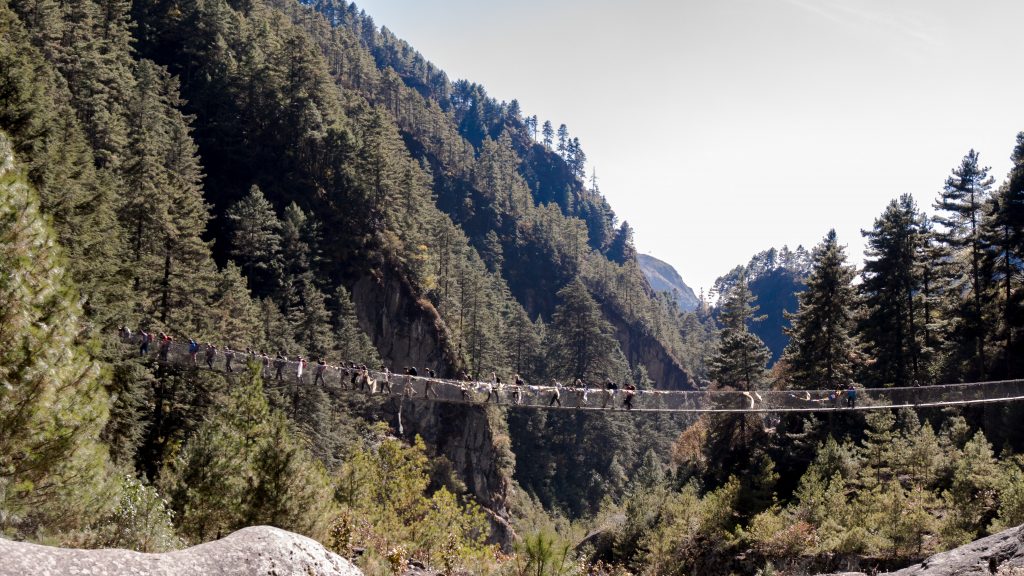 Throughout the entire trek
This was actually one of my favourite parts of the hike. Ridiculously high suspension bridges, which occasionally had a tendency to wobble in the wind and sometimes had wide loads, carried by porters, passing in the opposite direction as you were crossing. I think by nature of hiking in Nepal and trekking to Base Camp, you tend not to be particularly perturbed be heights but even so there were times you didn't really want to look down. And even then, the bridges appear to be a stroll in the park compared to some of the rope bridges in Nepal.
Day 5
Danielle and I are off to Amsterdam soon, where the mice have clogs on. And that's a fact Mr Trump would be proud of too. On Day 5 we were staying in a very Buddhist area, Tengboche, next to the monastery. There every life is treated as sacred, so while they don't go so far as to make shoes for the mice, they certainly don't lay down any mouse traps – which explains quite a lot of what happened.
When I first entered my room I saw a mouse run scuttle across the floor. Given the gaps between the doors and the floor – I quickly came to terms with how fruitless it would be to hunt the mouse down and shoe it out of the room. I chose not to mention this meeting to anyone else, since ignorance is bliss. I didn't spot any more mice until about 2am, I woke up to a scratching close to my ear. The little bugger was on my pillow – I think after running up the curtains. Amazingly, almost in unison at that instance I heard what can be described as vocal acknowledgement and surprise from the room next door and the room across the hallway. Seemingly, 2am is kicking out time wherever the mice hang in the evening and they had all come in to roost (do mice roost?) at the same time. With my head torch I actually spotted a couple of other mice but managed to get to sleep by switching to lay my head away from the curtain. Still, not the best, but not the worst night sleep I had on the trip.
Firstly, Day 4, then more properly Day 8 onwards
Altitude Sickness. 
This one wasn't fun. You read a lot about altitude sickness on EBC treks before the trip and you're told a lot about it on the trip, it's an important one not to ignore. The effect on Day 4 was a headache and feeling a bit rough. Day 8 happened after an acclimatization hike. We monitored our 02 and BP levels about three times a day on the way up, and after this hike alongside a headache my 02 levels had dropped low enough to warrant taking Diamox. This is amazing stuff in that it has a very quick impact in boosting your 02 and alleviating your headaches. The downside is that a side effect means you start pissing like a race horse. Waking up in the night with several layers on including a hat, while wrapped up in a sleeping bag, is not the time when you want to get out of bed. Even more so to find some arctic bathroom with varying degrees of sanitary in pitch blackness.
Two other worthy mentions of outtakes:
Escaping the bubonic plague. 
On the way up we were staying in a tea house in Pangboche, just ordered our dinner when a large group arrived coughing and sounding like they had the plague. We all escaped to our rooms and ate dinner there before making an emergency exit into a nearby tea house to avoid getting sick.
Photo opportunity gone wrong.
After a night out on the tiles in Kathmandu a few of us were walking back when we spotted this Rickshaw. Thinking and I will say being encouraged, it seemed to present a good photo opportunity. I went over to pull it out so I could sit in it and it felt heavier than I expected. Not being dissuaded (I had climbed to Everest Base Camp and survived through above outtakes) I went round to push instead of pull. Giving it a push I heard a grunt, this grunt turned louder and it turned out the driver was asleep in the back of his Rickshaw! We promptly made a slightly more hurried return to the hotel!