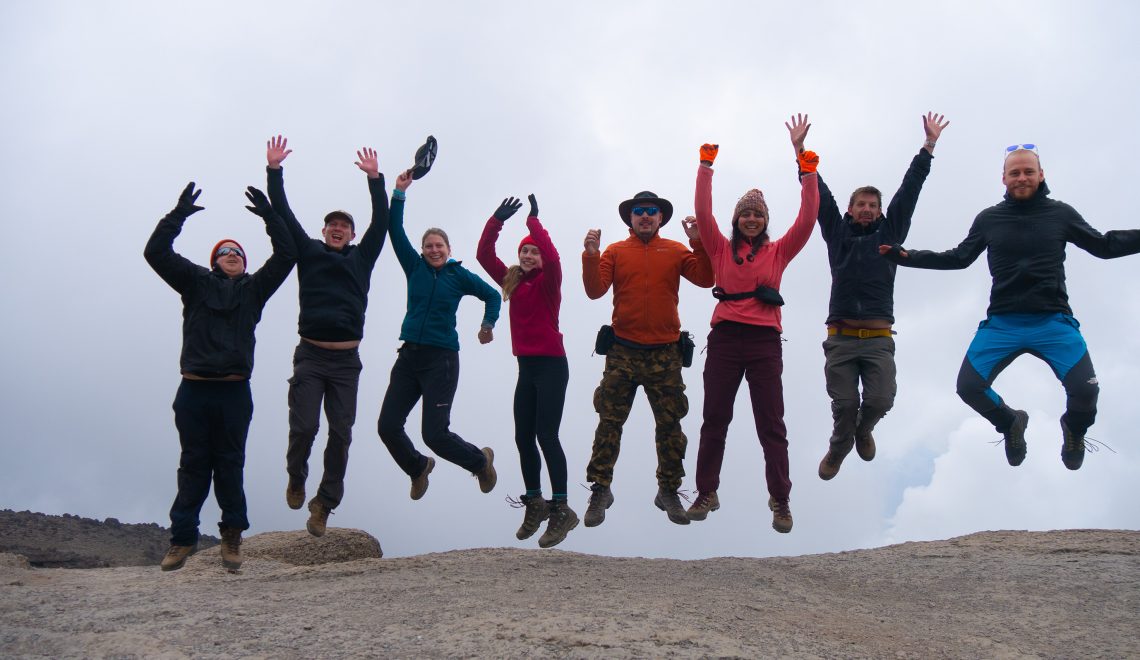 Last of the 'easy' days as going gets tougher but home comforts help
Day Four: Shira Two camp (3,810m/12,500ft) to Baranco Hut (3,950m/13,106ft)
"Day four! Half way done". This is the first line in my notebook that I wrote in my tent knackered after quite a day climbing to Lava Tower. And on the Kilimanjaro tour company website, it's described as the "last of the 'easy days'". Easy days?!
Despite the claims of an 'easy day' it was going to be one of the longest days and the peak altitude would take us above 14K feet for the first time. With the landscape changing the paths widened as well and we found ourselves less single-file.
Traditions and setting out for Lava Tower
As is the tradition we had new terms for left and right: 'honey' and 'jam'. Ollie controversially threw in 'marmalade' as a stop word. Controversial because we don't have any marmalade at camp and we rarely stop! Honey and jam have been essential to making the daily breakfast porridge less boring.
The wider trails led to less use of the terms today, also everyone was slower to remember the right word. I guess when you change the word for left and right every day then add in lots of hiking, altitude, and iffy sleep you might expect to start to struggle at somepoint!
The usual Kilimanjaro itinerary of go, keep going and then reach the next camp for lunch varied today. We head to Lava Tower stop for lunch and then descend to Baranco Hut to camp.
The scenery was dramatic with rolling fog, close views of Kilimanjaro, and a volcanic landscape. Unfortunately, the altitude was hitting James, we didn't find out till days later how much his 02 had dropped. There was also our first dose of rain which hit us on/off. With a wider landscape, there are fewer rocks to use for toilet breaks. I should have known better after Nepal, but during one water break there was a toilet shack nearby. Honestly should have treated it like a rock vs a toilet. One of the less pleasant experiences to put it mildly.
It was a pole pole pace up but with the rain and altitude effects, it was probably a pole pole pole pace. Ending up an hour late vs our lunch ETA. During the morning briefing, we asked if we had to carry our lunch, Bosco confirmed no. Still, I expected a packed lunch. No – at this camp with a literal tower of Lava overlooking us, was our blue mess tent pitched. Yesterday I had been talking about how I'd love a Cornish pasty. For anyone not familiar, alongside fish n chips this is a staple food. And yes, it's beige, no not all English food is beige, but it's something I miss living in NY). Lo and behold lunch was vegetable pasties! I was so excited. Coincidence? Had a guide overheard me? Do they even know what a Cornish pasty is?! Who knows.
Pole pole? Nope.
If going up was slow, our pace going down was anything but. Whether we were trying to catch up after our slow pace up, or it was practice ahead of summit day we debated but it didn't matter. It was fast and felt like we were running. Our guide Roman is starting to get form for being fast. Soon after we started I got a headache, chatting with Katie before dinner she felt the same. We'd both independently put it down to the rapid descent. Bosco chill about it 'expected'.
Three things occurred at dinner. We broke the sequence of 5-6 veg-only meals. I made it a sequence of meal wishes coming true, "would love a lasagne", dinner = meat sauce and pasta (close enough!). James' rough day was compounded. There was a vegetable sauce as well but no sooner had his eyes lit up than the waiter had taken the spoon and mixed the meat with the vegetable sauce. As I said, they seemed to understand gluten better than vegetarians.
Day Five: Barranco Camp (3,950m/13,106ft) to Karanga Camp (3,935m/13,106ft)
A lie-in! 7.30 wake up vs the usual 6.30. Trails converge from this point on so routes are getting busier. If yesterday afternoon was draining, woke up feeling re-energised today. I piled on the layers last night to stay warm in my sleeping bag. This has also been our third night sleeping at similar altitudes.
I wrote previously, prior to the trip I only did light research on the details of the day. One thing that stood out though was 'the wall' you had to propel yourself over. I stopped reading at that point, happy enough to be left in the dark as to what this wall really was or entailed until I had to deal with it.
The trek up to Cathedral Point had us doing a bit of scrambling but this was more intense. Intense, but proper fun. For NYers, think Breakneck Ridge on steroids with a 30L pack on your back. It was slow going partly due to treading carefully and having to pull ourselves up over rocks but also due to 'traffic'. There were a bunch of loud Texas women in front of us, having a great time but also moving quite slowly.
Reaching the top the clouds were too heavy to provide great views but it still felt great to reach the top of this 'wall'. At this point, we expected it was downhill to the next camp (the briefing had gone something like "we get over the wall and then head down to next camp"). Instead, it was more uphill as we curved around the mountain. This did, however, open up more and better views as the cloud cover broke.
Once we started down the surface was very loose with almost all of us slipping and sliding. Bosco asked us to stop playing games hilariously, we were all like this isn't deliberate! Once at the bottom, getting to camp required a steep uphill, luckily it was very winding and not straight up.
Sam picked the words for left and right today, yet more controversy. "Beetlejuice" and "Jaws". Nothing to do with what we're eating or the trip at all! Still quite fun to shout Beetlejuice on the mountain. I'm sure the porters think we're insane while the guides are just laughing.
Closing Thoughts on Day Five
A few other random notes and thoughts. I've developed a blister on my right big toe, and early signs of one in the same place on my left toe. Hoping this doesn't impede me too much, though I have got compeed. The temperature varies so much, at times a t-shirt is enough, but then we stop and I get cold. T-Shirt and windbreaker seem to be the perfect combination most of the time.
Tomorrow we head to Base Camp.
Last diary entry: "How do I feel? Like it's achievable. Need to ensure I have enough layers on as yes it's a big jump in height but small steps, keep moving."