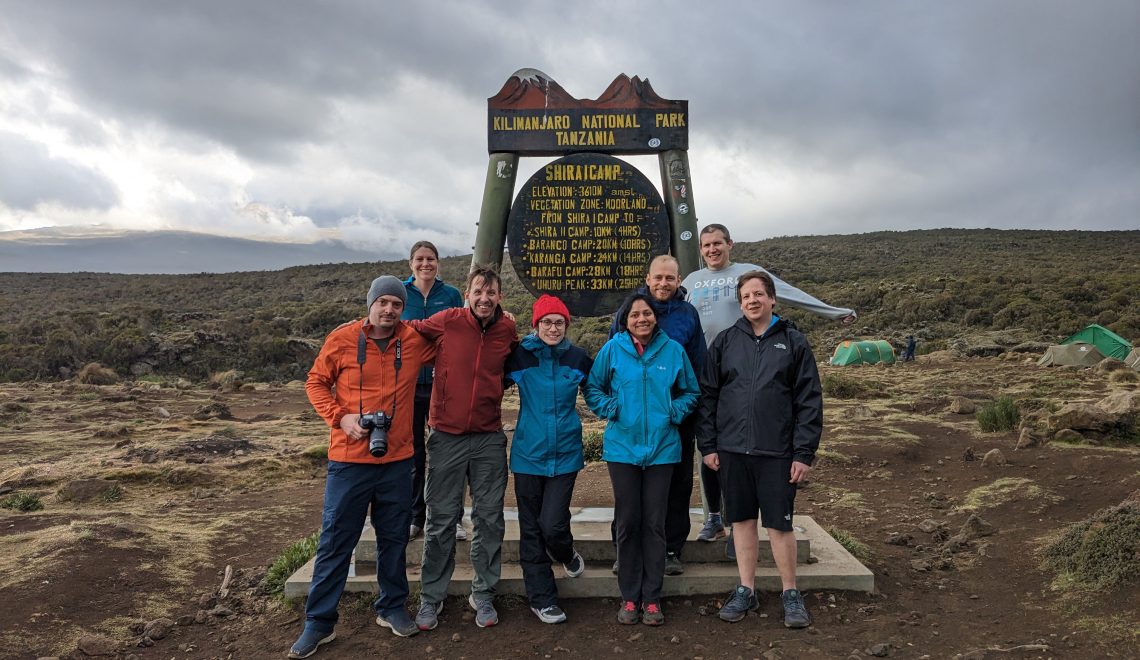 Day One: Londorossi Gate (2,220m/6,825ft) to Mt Mkubwa (2,800m/9,100ft)
There are several different routes to take up Kilimanjaro, our Lemosho route is the most scenic route, and at 8 days is one of the longer routes. People come here without proper training and try and do it in 5 days – what's the point? Throughout the Kili hike, EBC was a reference for me, it is my only other high-altitude hike, but one of the best things about that trip was the scenery and the journey (will try not to talk about the worst things!).
Apparently, despite not necessarily being the most popular Kili route (surprising given it's the most scenic route), there are 200 people on this trail. Part-way up the trail we'll merge with other trails too. Once at the gate, the guide and porters start unloading, sorting the paperwork, and going through their official weigh-in (porters can carry max 20kg).
Tucking into our packed lunch: chicken, bread, apple, banana, egg, muffin, biscuits, and half a Diamox (altitude meds). With the Diamox Bosco (lead guide) recommended we take half a dose in the morning and the other half at lunch on an ongoing basis to help mitigate altitude effects
An hour after lunch and we were still sitting waiting to get going. At that point, I'm getting a bit restless, but patience is good to practice. Pole pole as they say.
The Real Start
By the time we left, the area we'd been waiting in had changed from fairly empty to bustling with people of different nationalities. It was fun spotting the Americans, Brits and Germans. The nationalities are distinguishable owing to the different brands being worn, equipment choices, and organisation.
Despite the number of people once we started hiking strangely it didn't feel too busy. It was a very slow pace, on a mainly uphill rainforest trail for 3 hours to the first camp.
During the drive-in to the gate we had passed lots of fields of potatoes and carrots – the latter you wouldn't have clocked at first as the fields were seas of green. It looked like a football pitch. But this started a joke that lasted throughout the 8 days.
While we didn't encounter many people on this first day, there were a lot of porters – requiring us to step to the left or right to let them pass. "Keep left!", "Porters, keep right!", soon evolved into yells of "Carrots!" or "Potatoes!" as we started this ascent up the mountain. With Emmanuel, one of the assistant guides at the front, Bosco was at the back and soon picked up on the terms we'd coined and by the end of the first day was joining in.
Arriving at our first camp, I certainly didn't and I don't think anyone knew what to expect. But everything was set up, porters showed us to our tents and then we had popcorn, tea, coffee, and hot chocolate waiting in the mess tent along with some hot water for washing. What is this luxury? Dinner was leek soup and some version of spaghetti bolognese. Health check (02 + heart rate) and briefing after dinner which would become part of our routine for the next 8 days. The health check is not my favourite part, and nor Shahini's apparently! After a few games of gin rummy (I won the first!) we were in our tents and sleeping bags by 10pm.
Day Two Mti Mkubwa (2,800m/9,100ft) to Shira One Camp (3,505m/11,500ft)
Based on the briefing from the previous night, knew today was going to be tough. 6am wake up by Abdullah, one of our waiters, knocking on the tent. That meant breakfast in 30 minutes. Slept so-so, chatting to others at breakfast that sounded better than average. Probably still a bit jetlagged and adjusting to the first night in the tent.
Although it was a slog of 6 hours uphill there were some great views. Roman (one of the four assistant guides) led us with a markedly different pace from Day One. Break time is 10 minutes max. Word of the day: "twende", meaning "let's go" in Swahili. Summed the day up pretty well, there wasn't much stopping!
We reached camp at 2.30pm with lunch at 3. Cucumber soup to start – I've never had it before though it was delicious.
There was a bit of downtime after lunch before dinner, it poured with rain in the afternoon which also seemed to bring a notable drop in temperature. It varies so much throughout the day, keep adding and removing layers.
New words for left and right, food inspired again. Left:papaya, right: yams. Sam (orange jacket to the left of me in the first photo below) is gluten-free and James (bottom right in team photo) is vegan. The chef seems to understand gluten intoleance more than vegan cuisine but it does mean Sam is getting inundated with yams at mealtime while James can at least rely on the plentiful fruit we are receiving.
Day Three: Shira One Camp (3,505m/11,500ft) to Shira Two Camp (3,805m/12,480ft)
I was freezing in my tent overnight. Why? Was it just because I didn't have a warm pair of socks on? The 6.30 wake-up call was not welcome, if I'm this cold in my sleeping bag and liner how cold is it outside?! Bosco's said we need to be more punctual so as much as I would love to have a lie-in I had to get up. When I opened the tent it was very apparent why I was cold – the whole ground is frosted over.
While our camping toilet is great and was so welcome on the first camp which did not have a pleasant public toilet, the ones at Shira One are quite clean. Being on higher ground it also gives a nice scenic picture of the camp – a nice little morning stroll to help wake up.
Despite being cold overnight I felt like I had one of my better sleeps recently. I'm too long for the tent and sleeping bag though so having to sleep with my knees bent upwards.
Today was an easier day overall, a 10km hike for a 500m altitude gain between camps. We also reached our first peak (after the trip a lot of us noted part of today as one of the highlights of the trip).
Along our way from Shira 2 to Barranco Hut we took an ascent up to Cathedral Point. I can imagine the inspiration for the name, the rocky outcrop reaching into the sky like a spire. No steps here though, the climb required a bit of scrambling to get up. We were happy about this though – a welcome change to use our arms a bit! Especially welcome was the chance to leave our bags with one of our guides near the base. Climbing up everyone was like 'oh this is nice and light!'.
The top had us in the clouds with amazing vistas over the land below. After a few photos, we stood just taking in the views and watching as clouds converged around us. Starting to appreciate why the Lemosho trail is described as the most scenic Kilimanjaro route. The peak here was 12,700 feet– giving us the opportunity to hike high and sleep "low" – optimal altitude acclimatisation methods.
Got to camp at 1.30 feeling quite tired despite it being a more gradual day. During the last bit of the hike I found myself moving slower and feeling like the pack was heavier. I took more photos today so found myself a little further back at times. Making a mental note that I need to remember not to speed up to catch up afterward. It's all about steady steady/slow slow.
On some of the shorter itineraries, people wouldn't have rested at the last camp and days two and three would have been done together. That feels like a lot especially given how I'm feeling. Putting the feeling down to the accumulation of factors: lack of good sleep, multiple days hiking, and the altitude.
Lunch was delicious, becoming one of our favourite meals. Coconut and ginger soup, corn fritters, pancakes (crepes) and watermelon. Loss of appetite is one of the early signs of altitude sickness, signs we were attuned to. Judging from the little amount left over, and the large quantities served, think we're doing OK so far.
N.b. left was mango, right was orange today. Fruit and vegetables are very prominent in our directions so far.
Tomorrow is our last "easy day" and we move out of the Moorland climate into Alpine.