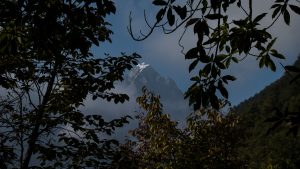 I've been back in New York for about 19 days now, more or less the same time I spent in Nepal. I've more or less finished editing my 3,000+ photos and now here's the final part documenting the journey back from Everest Base Camp. A couple of things to keep an eye out for in the next few weeks – the photos from the trip, the highlights and outtakes of the trip and a few words on the last couple of days we spent in Kathmandu exploring some of the cultural sights in the city itself.
Day 13, to Namche Bazar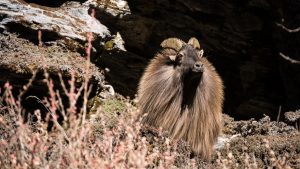 The day started with a spotting of a herd of mountain goats, they were very well camouflaged with the beige of the rock on the cliffs so whoever originally spotted them had excellent eyesight. As we stood there watching them and I sorted my camera out a couple of male goats appeared also with impressive beards. Later on we also saw three griffon vultures circling around the cliffs above us. We'd obviously seen lots of yaks and some horses/donkeys too (mice also, but more about that later!) but it was amazing to see some other wild animals.
The trek down to lunch seemed to take forever, a part of the trail I think I had probably filtered out of memory on the way up. Beautiful wooded path and fantastic light but what felt like a never ending twisting path dropping fairly quickly down – which obviously means it was a never ending uphill slog the first time we took it! As we approached down for lunch we passed a large mani stone (I may have mentioned before, these are like prayer stones crossed with roundabouts – you're supposed to go round them clockwise – the same direction the earth and universe revolve per Buddhist doctrine), it was large enough not to fully realize and Michelle was half way round the wrong way when she realized in sort of semi shock the way she was going and went back around. It's a little anecdote but everyone really bought into the Nepalese way right way through to the end – or it might have been the soldier with the gun standing by the trail entrance!
After lunch we continued retracing our steps, crossing over several high bridges (definitely part of my highlights) and climbing partially back up the other side of the valley (Namche Bazar was on the opposite side of the valley, meaning after descending throughout the morning we had to climb back up – again typical Nepal, nothing is flat). Whereas when we first came to Namche Bazar we entered from the bottom, this time we came from the top – getting a fantastic view of how the village is set out in an escalating semi-circle.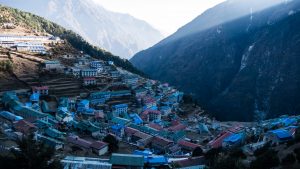 We arrived with good time to spare before dinner, providing an opportunity not only to relax in a heated room, but venture out and explore some of the local shops. I managed to acquire a few pieces of artwork, while accidentally haggling the price down ("I'm not sure where I could put two pieces", "I'll do you a good price" [drops price], [me thinking, the price doesn't increase the size of my Manhattan apartment]. "I like them both a lot just not sure I can fit them both", "okay I'll do you a great price" [drops price again]…). In the end I did like them both and figured they're small enough I can find space and it was nice to support the local economy which as mentioned before had been badly hit by the earthquake last year.
Day 14 to Lukla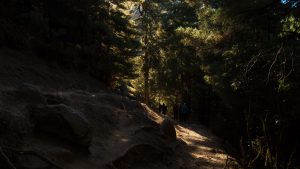 As we left Namche Bazaar, we seemed to be channeling our inner Pied Piper as we gathered a following of dogs from the village for about the first 15 or 20 minutes of the day! Day started off down a wooded dusty path, leading to what had initially been our first sighting of Everest and was now our last. When Sangay, our incredible porter, said "bye bye Everest' in all honesty I was ready to say 'bye' too – two weeks of hiking and I was ready for fresh clothes, a proper shower to name two. Now, I'm honestly writing this and looking at the photos (coming v.shortly!) and wanting to be back there!
The hike that day seemed to go on forever, likely because it was the last day and my legs were beginning to tire while everything felt so close but still a final hurdle to get through. When we did finally get there it was such a good feeling – obviously not as good as getting to Base Camp but still – Base Camp was arguably still only the half way point, now we'd finished it completely! There were several great causes for celebration – unlike 18,000 feet we could crack open a beer (or two, three…), our rooms were en-suite (the prospect of not having to venture to an outhouse or some other shared facility of varying quality was cause for mild hysteria) and the prospect of a "Yak Sizzler".  Nick had mentioned how he had eaten three of the Yak Sizzlers once after arriving particularly starving and I had been keeping that meal in my mind as a certainty for dinner that night. The intention had been to make the use of the en-suite shower before dinner but unfortunately, someone (no names mentioned!) had used up all the hot water it seemed! However with a Yak Sizzler and beer I was a happy man regardless!