14 days in the Caribbean sun? Or, 14 days in the bitterly cold New York winter? Could be a hard choice, or no choice at all. In more ways than one!
I'd just dropped Danielle off at Heathrow and was on the way home when I realised I had a missed call from Danielle. My first thought was, did Danielle leave her passport? Or, maybe the flight was delayed/cancelled? But then wouldn't there be more panicked signs? Multiple missed calls, a text message? Maybe it was a butt/pocket dial.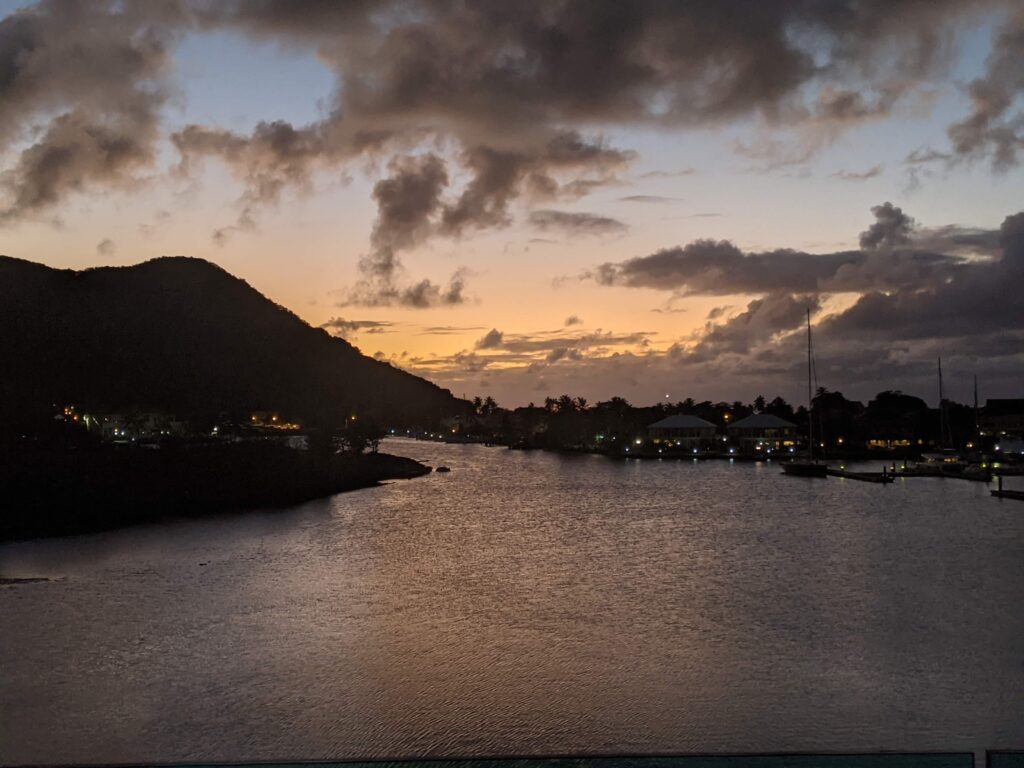 <I wrote this earlier this year but just got round to publishing it>
Figuring out a game plan
It wasn't accidental. Danielle explained she had seen Brits at check-in being turned away as they tried to board flights to America. Apparently, non-US citizens who had been in the UK in the past 14 days were barred entry. The embassy wasn't particularly helpful, citing my need for a national interest exception which according to companies' immigration lawyers would cost several thousand pounds with no guarantee.
By this point, the UK had gone into national lockdown, my hope was for a reversal of policy. Trump was in his final days of office and there were rumours he was going to reverse it before leaving. He did, but only the day before he left. Biden quickly (and I, unfortunately, have to admit) correctly reversed it.
The forks in the road were limited at this point. Wait it out? (I would have been waiting until November this year). Or, spend two weeks working in a country, not on the red list? The latter seemed the most feasible option to guarantee to get back into the US as soon as possible. I needed to find somewhere which A) allowed people from the UK to enter and B) wasn't banned from the US either. This more-or-less narrowed it down to Mexico (escalating covid cases), Croatia (moving further away from the US), Caribbean (maybe?).
After some research, St Lucia seemed to be one of the best options. Flights were still operating, COVID cases were low and a reasonable quarantine policy. Their 'quarantine' meant while you had to stay in a COVID approved hotel/resort you were free to roam the property once there. Technically you could also take COVID approved tours or go to some specific restaurants off-property.
Flight booked, lots of paperwork complete and covid test negative I was ready. Landing in St Lucia we were taken to a large tent where paperwork and temperatures were checked. It was very impressively organised.
In the Hotel
At the hotel, more paperwork, temperature checks and a rum punch later and I was…finally released into quarantine? Since I was working for most of the time it didn't matter too much that I couldn't leave the hotel.
The food at the hotel (Harbor Club) was of exceptional quality and the staff were great. Without too many guests I was able to get to know the staff well. Conversations with them over meal times really hit home the impact COVID has on tourism, and therefore their lives. 28% of St Lucian's lost their jobs due to hospitality and tourism closures. There were maybe a dozen guests at the hotel which could probably take on 10x that number.
The one hour time difference to New York made a world of difference. Every morning I woke up and followed the routine: temperature check, new wristband, swim, breakfast outside. It was a routine I would have never minded giving up! Nor the room with a balcony and amazing views of the sunset and marina.
About a week into my two-week stay I got a call from reception asking if I could come down and talk to the manager. I had a feeling about what it was going to be about. Over the past week, the guest numbers had dwindled and it was about to be just me. Not exactly sustainable to have a hotel open for one guest.
My hunch was right. They were very hospitable about it, explaining they'd arranged with another hotel to take me but it would be up to me in the end. A tour of the other hotel was arranged, and I double confirmed at every step the WiFi would be OK (given I was working this was ultimately the most important element). Satisfied, the transfer was arranged.
In the Hotel, part two
Since this was my first time in the Caribbean, I don't have much to compare but the hotel was far less modern and felt a little outdated. Never-the-less my room was bigger, I still had a balcony, WiFi worked great AND I was on a beach with an ocean to swim in.
Returning to the US I required another test. Despite a lot of communication issues (leading to a rescheduling of the test), I received the test results back the day before I needed to travel. One thing sorted. There was though one more stress test to come.
Something to know about St Lucia is it's a volcanic island and so with that very mountainous and hilly. About 20 minutes into the drive the car starts slowing down on one of these hills and a lot of smoke coming out of the back. The driver stops the car and explains it overheats occasionally. But after several false starts, we eventually got going again. This then occurred several more times. Luckily, we'd left with enough time but still not reassuring to be in a taxi that kept breaking down with a flight to make!
Arriving in New York, the national guard was there to greet us, ensuring we filled out forms for contact tracing and quarantine enforcement. So after 14 days of quarantine, I had to do another four days in New York before I could test out. A little different type of quarantine admittedly – less expensive but also much less sunny!