The beating Mediterranean sun, golden beaches, rugged hiking trails, French wine, and fresh seafood. That was the idea. We'd celebrate a friend's wedding in Toulouse then travel onto Corsica to enjoy a summer holiday…and our engagement. Unfortunately, all plans got postponed.
With travel limited our holidays in 2020 were local, though that by no means prevented good times and travel. Indeed, we've had a few excellent local vacations in the past 12 months. Even before the Pandemic hit we squeezed in a long weekend in February to Nashville. It took till August until we next ventured beyond the state borders though. A three and a half-hour drive North-East led us to Newport, Rhode Island. It was a trip we should have made long before, with so much to do and being so close. That said it was nice to explore somewhere new while many travel limits were in place.
After the France postponement, New England and Newport specifically became the new plan for the engagement. A potential double celebration with my birthday. Indeed, everything was prepared for that and accounted for, nearly. Days before leaving I received an e-mail: the ring was indefinitely delayed due to covid issues at the diamond supplier.
There will be another post about Newport, it is certainly deserving of more words. For now, shining the light elsewhere.
Fast forward to September and another New England trip, this time Cape Cod. With the use of a car, we explored most major points on the Cape, many such as Barnstable familiar names from England itself. For our second day, we did away with the car and bundled up for a ferry to Martha's Vineyard. We had considered basing ourselves on the Vineyard (that's not a vineyard) but it's not the easiest of places to reach. As a day trip, it worked well – broadly speaking…
On the island, we rented a couple of bicycles and explored some of the bike-friendly routes. One route took us via Mad Martha's brewery (sadly several hours wait time meant this is on the "next time" list) onto Edgartown Lighthouse.
As we parked our bikes and ambled up to the lighthouse we stumbled upon a young couple, probably in their early 20s, excitedly on the phone to their families post-proposal. This rather ruined any potential ideas that may have been brewing for the engagement to happen in this New England spot. And, simultaneously leading to Danielle pointing out what a great spot this would have been for that very event! There was no special point about a lighthouse being the point of engagement, but this was a scenic location.
The weather surprised us, mid-September we had anticipated slightly warmer weather, but for most of the time, it was very windy and steep drops at night. We missed the main ferry back from MV and ended up on a very cold ferry with only a narrow corridor of seating for everyone. The upside was an incredible sunset evident when we docked. We encountered a few gorgeous sunsets on the trip, evidence of why they are famous here.
Provincetown was the agenda for the next day. I had also discovered on the route another lighthouse, with some fame attached.
Drawing up to the adjacent car park, the attendant kindly let us off off the parking charge on the proviso we were only taking a quick look/photo of the lighthouse. No time for dawdling! Danielle didn't know the story of the lighthouse before we got to it. After I showed her a picture of the packet of Cape Cod Chips it generated an appropriate surprise reaction!
A smattering of people already milled around the lighthouse snapping photos of this Cape Cod landmark as we approached. As they moved on I got my camera out to take some photos. With Danielle posing in front of the lighthouse for a photo I feigned changing my camera lens as a diversion tactic to get the engagement ring out from my bag. On my knee, I didn't get the words out before receiving a positive answer – or at least what could be interpreted as a positive answer. The actual words and expression a little muffled through Danielle's mask. There was also some clapping from passersby who I hadn't noticed were watching the whole episode!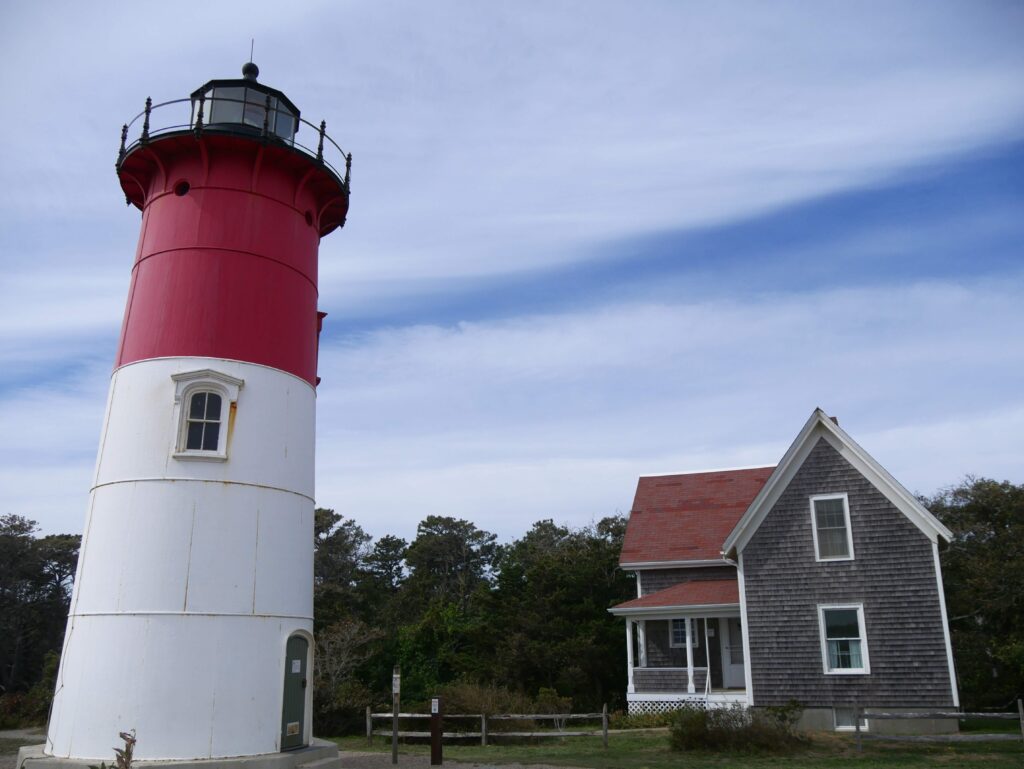 As we were "borrowing" a parking space we didn't hang about any longer. In hindsight, a proposal would have been quite a reasonable excuse to not rush to move the car!
We continued our journey onto Provincetown via a delicious French Patisserie shop, PB Boulangerie Bistro. With a sumptuous collection of pastries in our hands (and maybe a couple already in our mouths) we reached Provincetown.
Before we could do anything else we made a quick video call to my parents from a sunny New England beach to share the engagement news. Slightly surprisingly, they were not entirely surprised!
Provincetown was a brilliantly quirky town; it's known for being artsy and LBGTQ friendly – what we didn't know was it was relatively Jewish too with many shops closed for the Jewish New Year (Rosh Hashanah). However, we found a very "P-Town" bar to have lunch. All the wait staff/bartenders wore kimono's and our server, a friendly, slightly plump, and camp man added to the experience. We got a balcony overlooking the beach to ourselves and even if the service was lacking in some areas our server's personality made up for it. As a small coincidence, in this random bar at the tip of Cape Cod, it transpired our kimono wearing server had lived in England for several years, loved Manchester, and knew Oxford well. After quite a morning this quirky town and bar with a sea breeze and seafood was the perfect prescription.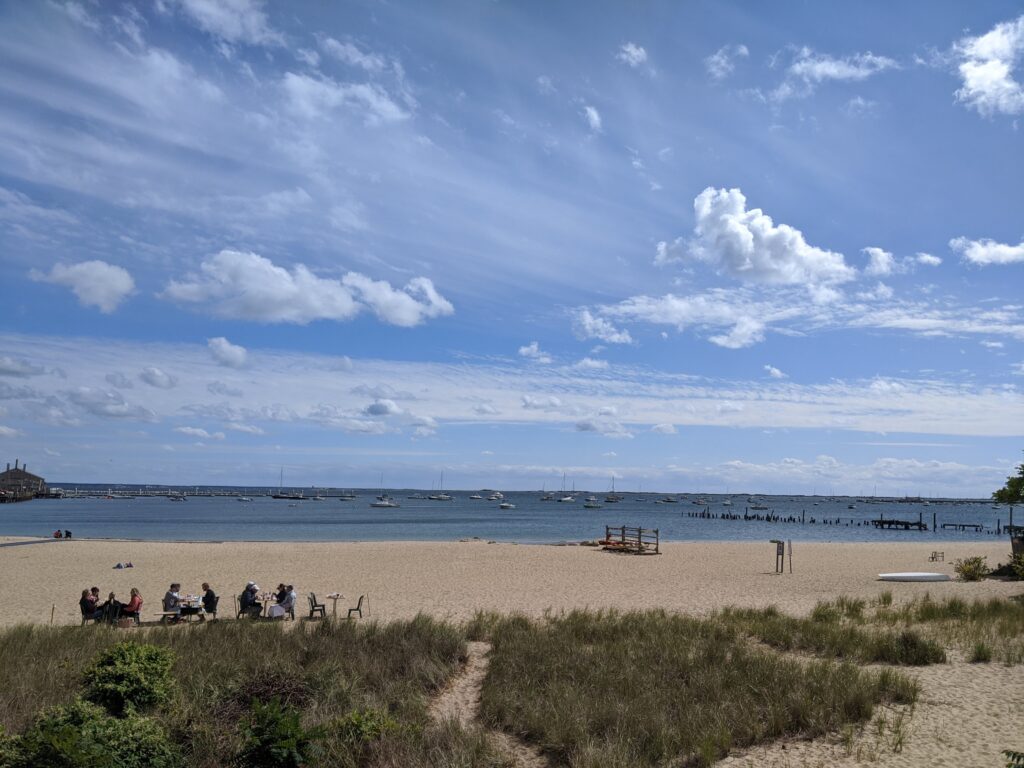 For our last day in New England we had decided we needed to go back to the lighthouse and get some photos to mark the engagement. Between the excitement and the parking, we'd neglected to get any on the day itself. This time, a windy weekday lent us the location mostly to ourselves. The photos have now been used in most communications to share the news and adorn a couple of mugs we received for Christmas. (There might be a joke there about our mugs on mugs). We're now looking at other ways of incorporating this into the wedding!