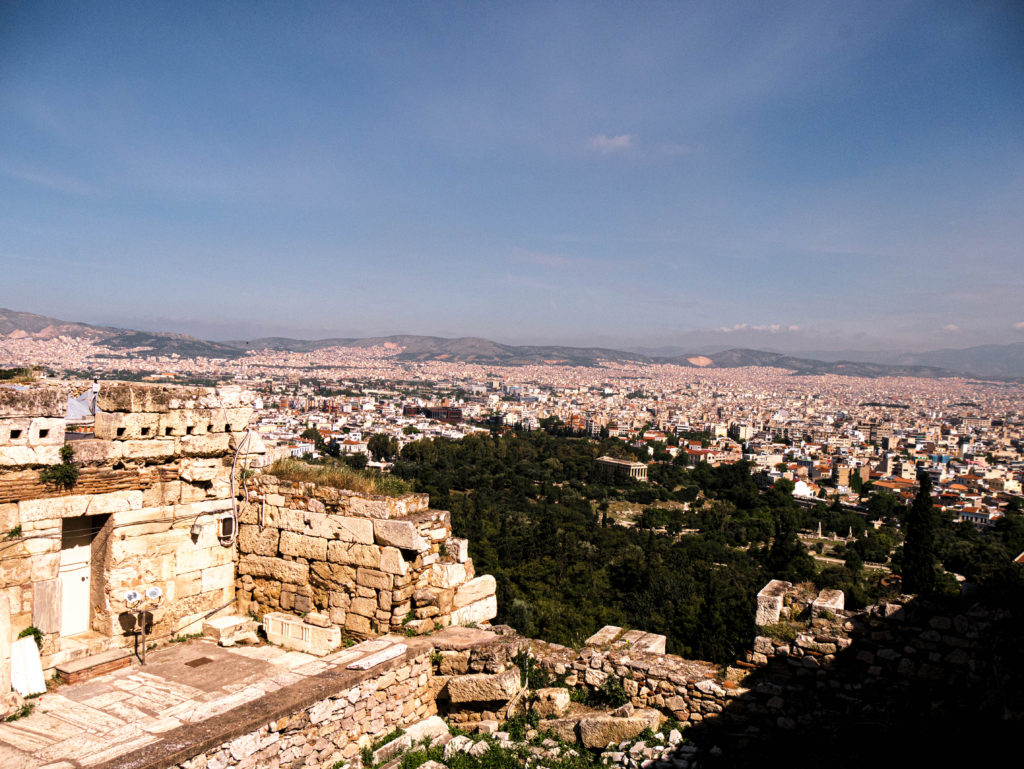 "How many days in Athens?" It was a question I'd asked Google, Trip Advisor and people I knew. The answers varied a lot. An expat said one or two days maximum, some of the internet suggested two to three days, others on forums said how much they love Athens and you could spend a week there. In terms of a unified opinion I wasn't going to find one.
Never the less, despite no clear answer, we made a plan to split our time between Santorini and Athens equally with Nafplio a short trip in-between. That left us arriving back from Nafplio on the Wednesday and departing Sunday lunchtime, three full days in Athens with some time on Wednesday to get our bearings.
Blog Breakdown:
Planning our time in Athens
Our plans for Athens were settled well before we arrived and having a structure and plan to our days really helped the enjoyment of the city. Danielle had been very keen to do a mythological tour and hear about some of the Greek legends and myths, I was excited to see some of the ancient Greek architecture. After some research I found a tour for our first day which combined both, taking in some of the main sights of Athens while also sharing stories on some of the myths. The website for the company, Alternative Athens, was extremely inviting and we soon booked a couple more tours for the remaining days we had in Athens. A food tour was booked for Friday and inspired by the surprising highlight of Melbourne a street art tour for our final full day in Athens, Saturday.
An understated advantage of city tours is not only they give information not necessarily apparent otherwise but they're a very effective way to get the lay of the land. Each of the tours we took in Athens had us exploring different parts of the city, by the end we had a good feel for the different neighborhoods. Our tour guides were all locals with other jobs, they knew the city and what was beneath the surface that tourists see.
What to see in Athens with a few days
Ancient Greece
Temple of Olympian Zeus

Parthenon, the largest temple on the Acropolis

Agora
The mythological tour was an obvious place to start, after all what is Athens more known for than some of the Ancient Greek sights? As part of the tour we bought a ticket that allowed entry to seven archaeological sites including the Acropolis, Agora and the Temple of Olympian Zeus. We ticked off all those places on our tour and on our own also explored Hadrian's Library. The ticket is valid for five days so ample time to see everything.
The Acropolis is the obvious star of the show and with the design of the tour we arrived there on the early side and beat most of the crowds and midday heat. I hadn't realized that the Acropolis is actually a citadel and the temple on top of the hill, that is visible and most well recognized, is only one building among several.
The myths were fun to hear about and interspersed with facts on how they even influence the modern day (Nike got its name from the Greek goddess of victory –Nike, whose temple was the first build on the Acropolis). Particularly hearing about the numerous times Zeus birthed a god was entertaining, whether it was Dionysus through his leg or Athena through his head (after Hephaistos cut Zeus' head open to see what was causing his headaches).
Street Art
Our tour guide Niko is probably the best guide I've experienced. The tour lasted 3 hours, maybe a little more, walking around some of the less tourist trodden paths. We were introduced to the unique styles of various artists, as well as the underlying story behind the art. Much of the art is political, set on the backdrop of a landscape where the politicians are loathed and right wing policy reigns (sound familiar?). Rather than a tour it felt more like an engaging, interactive art lesson. Niko did a great job at encouraging the group to share their thoughts and opinions on the art too. He also made a great effort to get to know everyone and it was interesting how all of us on the tour were from different walks of life.
The pictures can do more of the talking here but that's two out of two for street art tours. By the end Danielle was eager to pick up some of her pastels and pens when we got home.
What to eat
Oh Greek food, I miss the authentic Greek food. By the end of the trip though we were happy to not see another sea bream in a while, something that popped up on every menu everywhere in Greece!
That said, aside from sea bream we had plenty of other food – known and new. Generally Athens had less seafood. It was still easy enough to find fresh fish if you wanted but the dishes took on a slightly meatier feel compared to Santorini or Nafplio.
The food tour introduced us to several new dishes in general and food we didn't expect to taste. More than one of tour guides called out a specific cured meat restaurant as a local favourite and one to try before we left Athens. Neither of us expected cured meat and cheese to be as popular as it is, indeed on the food tour we even found ourselves in a deli, "Miran". The Deli looks nothing like the brochure pictures of Greece. While in New York Edison light bulbs hang in dimly lit hipster hangouts; here cured sausages, cheese and garlic strings hang, in ironically, well-lit surroundings. It looked more Spanish than Greek.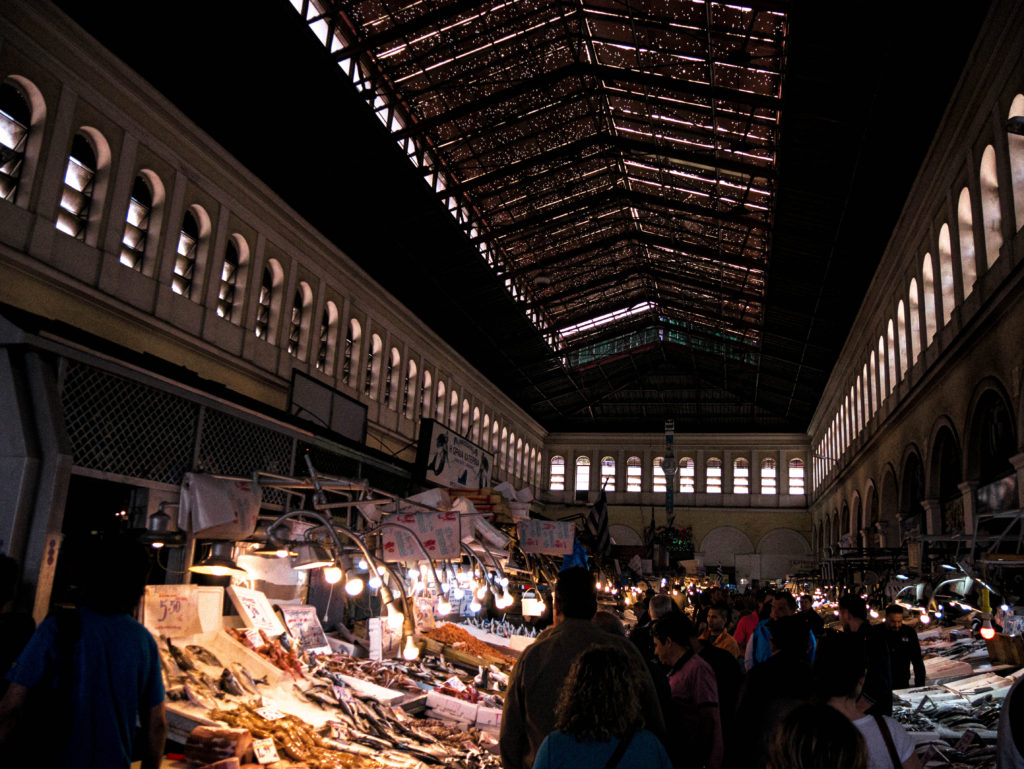 Near Miran, is the central market, infamous for pick pockets but also filled with real local delights. Lined with fresh fish, meat and anything else you may want to sink your teeth into, it's a feast for a foodie.
Most of our Greek food knowledge focused on the savory but we discovered the Gods probably had a sweet tooth too. I remember baklava from family holidays in Greece but it was new to learn the Turks also lay claim to the creation. The top sweet we tasted however was not Baklava, instead an orange cake in Santorini edged that title. While in Athens the Greek donuts "Loukoumades" we sampled on the food tour were very moreish and had we stayed for longer I probably would have had another one, or two!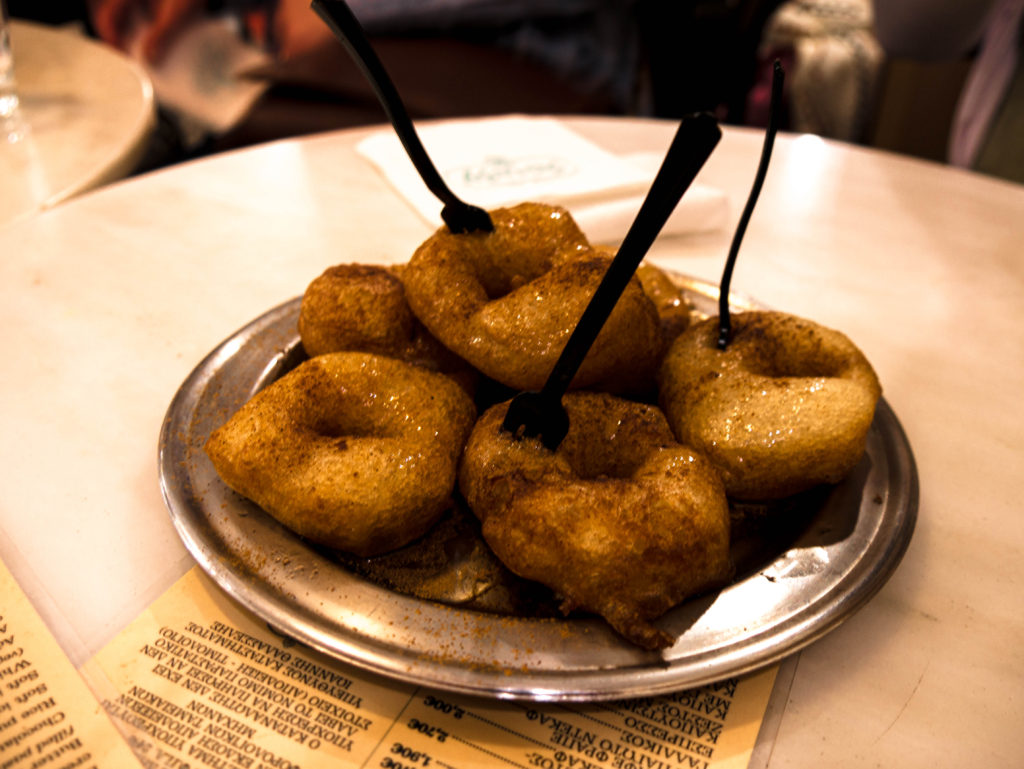 Topping all the tastings though, and the last stop on the food tour was another savory, a souvlaki pita. The origin: Kosta, little more than a hole in the wall, but with a reliably long line outside at lunchtime. This was a little different from your usual souvlaki, coming with a red tomato sauce than the usual tzatziki. Perfectly fresh grilled juicy chicken and thick pita, bursting with fries and the secret sauce. No matter how long you spend in Athens, this is a must.
Where to go
We found Athens very walkable, with back streets which avoid most traffic it's inviting. We averaged 23K steps a day though admittedly heightened through the walking tours. Even so, we didn't really notice it until the last day and almost forgot the underground existed!
Staying in Koukaki we were a little out from the center but still only 15 minutes from Plaka, the hub of the city and where the Acropolis stands.
Plaka is a maze of streets, much of the area is filled with tourist shops but there are also corners and squares with restaurants where it's very easy to get lost. In fact, getting lost in Plaka should really be on any itinerary. Every tour guide recommended it – literally, recommended getting lost in Plaka. Usually the guides help you not to get lost but here it's actively encouraged!
Above the shop lined streets in Plaka, underneath the Acropolis is a "hidden village", Anafiotika. We stumbled on this by accident one night finding ourselves meandering through small dark streets and houses. But this hidden neighborhood is a local gem, on the steps of the hill are several tavernas where locals come to hang out, drink and eat. Climbing up or down the steps we had to weave among the locals on the steps but it felt very different and island-like compared to central Athens.
On the theme of the less trodden path, the Street Art tour was excellent at showcasing some of the less well known neighborhoods. Gazi was one of the first stops and one of a couple of upcoming areas, had we more time we might have explored The Lazy Bulldog pub, recommended for its beer selection. As it was, there was food festival in Gazi happening over the weekend, making a good lunch pitstop.
Next time?
If I returned to Athens I'd like to explore more of Metaxourgeio and Pyrsri. Two contrasting neighborhoods, the former an emerging artistic district and the latter a more gentrified hub of cafes and bars. We had a tasty breakfast pastry, "Bougatsa", from a café in Pysri on our food tour and saw some great street art in both areas. However, both were fleeting visits.
The suitable way to tie off this blog post would be to revisit the question I asked originally. How many days in Athens? As many as you can.