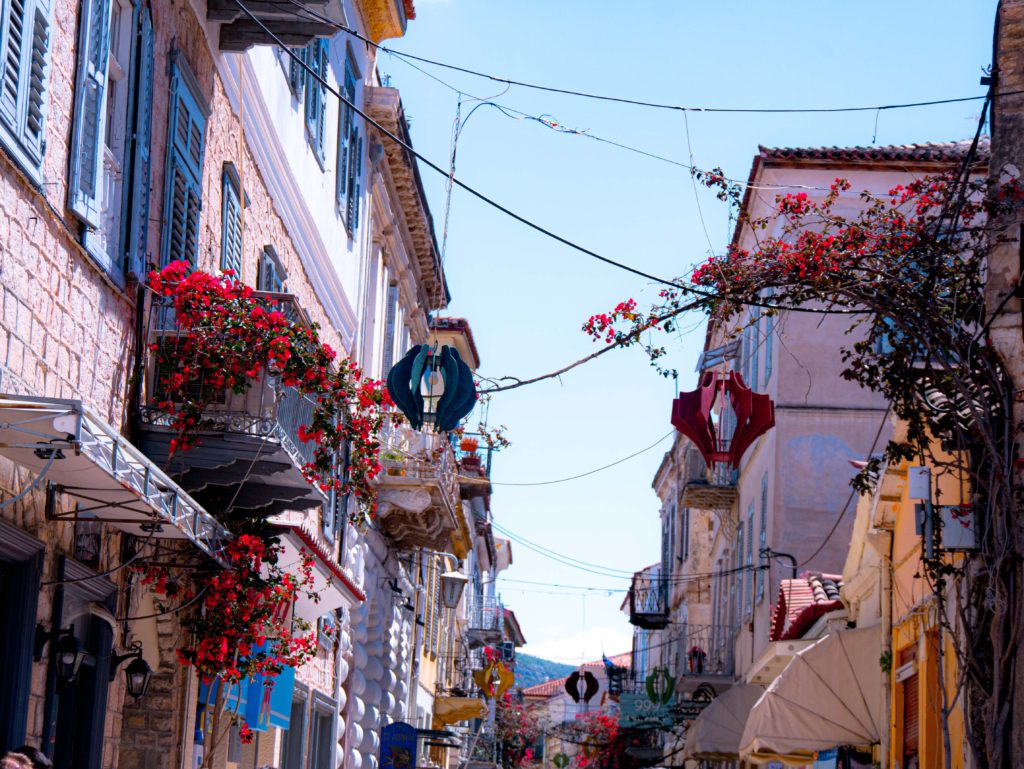 Olive trees, moussaka, glistening sea, sunshine and dodgy accounting. That would have been my description of Greece a few months ago. Athens however was a contrast from that and our one day trip from Athens to Nafplio showed another part of Greece.
We were both keen to see more of Greece than just Santorini, and Athens was on my list. I'd heard a lot of people mention there's not a lot to do in Athens and you only need a day. Despite those indications, my Googling actually highlighted enough for a few days. Between our time planned for Santorini and Athens we still had a couple of days for further exploration. . With that, Nafplio had been suggested. My mum had been to this small seaside town in the Peloponnese a while ago and it seemed a perfect distance. Planning a night stopover there would also allow us to visit the Corinth Canal and Epidaurus.
Athens to Nafplio
My experience driving on the wrong side of the road in Santorini was helpful although driving in Athens/Mainland Greece was markedly different . Santorini has no police or enforcement of the roads, while we must have passed through five or six toll booths from Athens to Nafplio. As we got into the Greek countryside the surroundings were beautiful. Looking in the rear-view mirror and seeing mountains, while fields and trees surround us is a journey to repeat.
On the way we made a short pit stop at the Corinth Canal, a short and narrow connection between the Peloponnese and mainland Greece. Before the trip I had seen dramatic photos of boats passing through the narrow channel. and was keen to see it for myself. The wind had picked up and I did well to hang onto my hat while watching a boat pass through. Corinth was almost exactly an hour from both Athens and Nafplio making it an easy day trip from either location.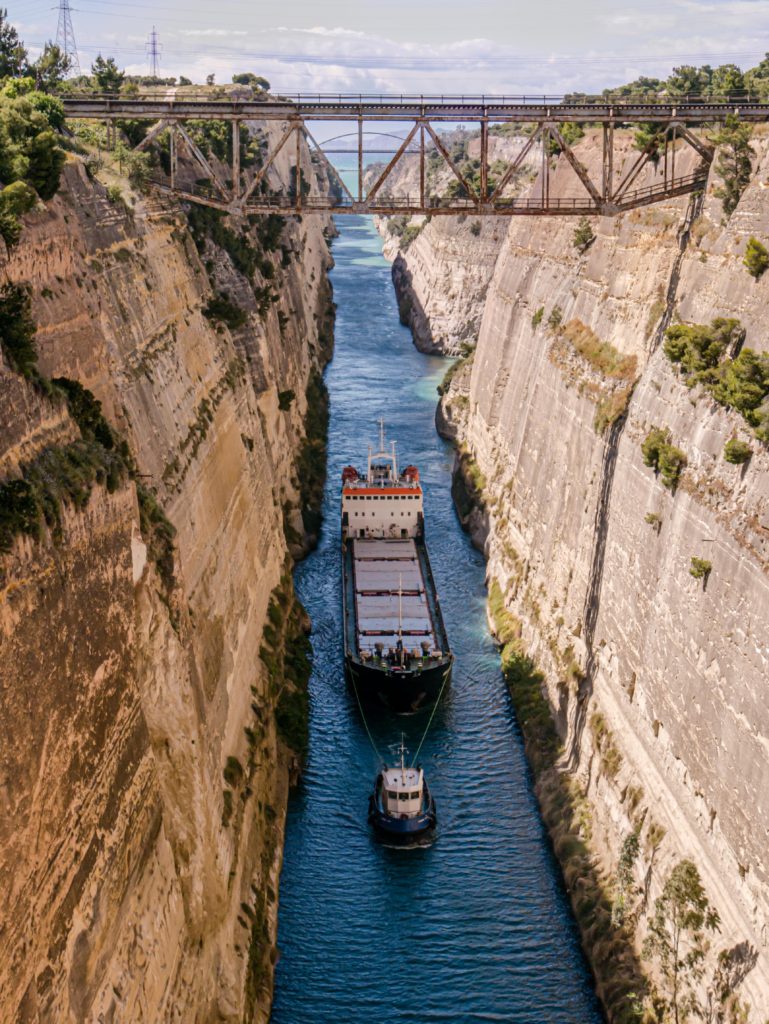 Arriving in Nafplio
Entering Nafplio, I was initially worried that what had been described as a quaint old seaport town had been developed and turned into a modern town for yacht owners. There was nothing here, aside from a small fort in the sea, which looked older than the last 10-20 years. Thankfully, as we walked towards our hotel we quickly found ourselves among cobbled streets and colourful buildings.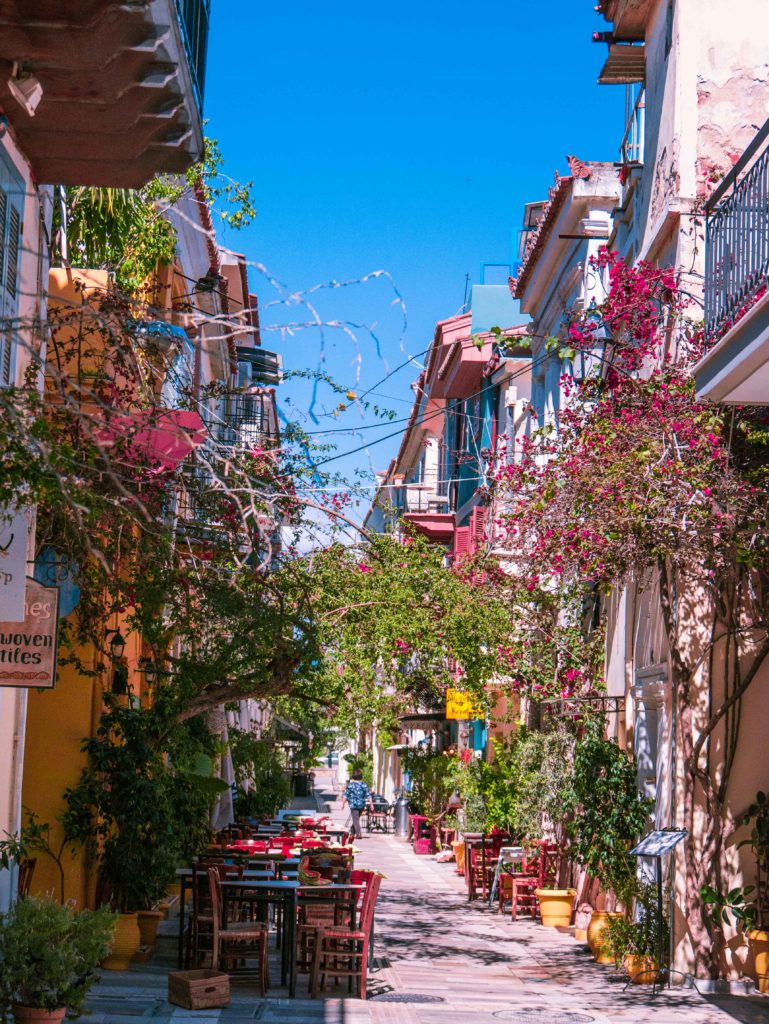 The hotel reception and welcome were unusual. Check in was on May 7th, if you're American or English, you might be familiar with this date. The first words of the receptionist: 'congratulations on the royal baby!'. After some conversation on this subject, the receptionist pulled up a large book and carefully wrote all the details of our passports down. No computers, just a large heavy book and some meticulous record keeping.
Food and Drink
That evening for dinner we found a taverna on one of the old narrow cobbled streets. The food was probably the best value of the whole trip and they did not skimp on portions, even for the beer which came in the size of a large water bottle!
Following dinner we found a bar by the water with outdoor sofas and heat lamps to enjoy a night cap. It was a relaxing end to the day with a drink and desert overlooking the sea. Catching us off guard was watching the moon crossing over the sky and setting below the sea in just a few minutes. Without understanding why it was happening it was a very unusual sight!
Trips around Nafplio
Nafplio has three castles/forts and order of the day after breakfast was to explore Palamidi Castle, overlooking the town and port. We briefly looked for a taxi to get us to the top before remembering we had our own car! It was a beautiful day with perfectly clear views of Nafplio from the top. The views continued as we explored the fortress and learned some of the history of the Turks and Ottomans.
Leaving Nafplio behind us our next stop was the Ancient Theatre of Epidaurus. Like the Corinth Canal, Epidaurus can be a day trip from Athens or Nafplio but for us made for a perfect stop between the two. The Theatre is stunning and -spoiler alert- more striking than any of the ancient sites we visited in Athens.
With the capacity of a small Premier League stadium, the size is something to behold for being built over 2000 years ago. By the same token it is also remarkably preserved. As well as the striking visual nature, the acoustics further amplified the experience. Several people tested out their singing voices and with relative quiet the projections were perfect. The acoustics very much reminded me of the Mayan ruins from my Central America trip last year.
Having a car made the trip to Nafplio. It allowed us to reach sites such as the Corinth Canal and Epidaurus and explore at our own pace. As we left Epidaurus and walked back to the car, one or two large tour buses had just pulled up. Walking against a tide of 100s of tourists, we knew we were lucky to experience the theatre in relative isolation. There is a time and a place for tours and this was not it. However, we enjoyed three great tours in our final destination – Athens.