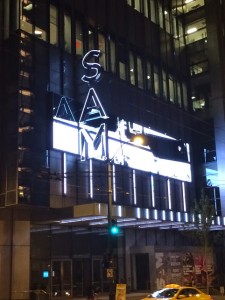 I'm hitting the pause button on New York for one post to cover off my 3 trips to Seattle. The New York Times recently did a feature '36 hours in Seattle' (I'm still not sure how literal they take the 36 hours but the premise being a weekend trip). Luckily I've managed to have more than 36 hours but in keeping with the New York style, I will scribe my own set of alternative recommendations for anyone planning to spend "36 hours in Seattle" (in the summer)…
Friday 3pm
In keeping with The Times (one for the pun jar) I'll kick things off at 3pm on a Friday with Pike Place Market, one of the oldest continually operated farmers markets in the States. This is a superb market full of food, arts and crafts but can get insanely busy at weekends, so it seems the perfect place to start your '36 hours'.
Seattle has a great reputation for seafood (grab some food while you're here, I recommend the 'salmon on a stick' personally) and within the market is a 'world famous' fish market. Having originally declared themselves 'world famous' when such statements were stretching the truth they have turned fishmongery into an art and the fish market has become a tourist destination in itself.
A highlight of the fish market is the fish throwing. This has contributed to fame of the market and has become a tourist attraction in itself. It is best explained through this YouTube video.
While you're in the market you can wash down your food with a coffee from the worlds first Starbucks, just over the road from the market it was founded in 1971. I'm still getting used to how 'new' America is – not just for me but in terms of the countries' age. Starbucks is such a big institution I find it surprising it is so young.
5.00pm
Having left Pike Place Market, take a wander south, down the Gum Wall. This is exactly what it sounds like. Think back to the desks at school, when only the foolish or forgetful would dare usher their fingers under the rim of the desk.
There are many stories of those who dared or did this though and never were their fingers seen again – stuck for eternity in a mesh of old and slightly off-fresh gum. Now if you can envision what the underneaths of those desks may resemble and transpose that image onto the walls of a down-beaten alley in Seattle and there you have it: the Gum Wall.
5.30pm
From the market you can catch a bus to Ballard Locks.  There's something to know about Seattle buses, they have bike racks on the front of the vehicle. I'm still not sure what to make of this, I've never had complete trust in a bus drivers regard for safety nor their confidence that their bus can indeed fit between those two large HGVs which are taking up 98% of the road. Now you're asking me to put my bike on the line too?
Regardless. Ballad Locks isn't exactly a tourist go-to spot ala Space Needle, yet it was a recommendation I received from my manager in the UK, Peter, who had spent several years living in Seattle so is probably a good person to trust on places to go (another recommendation of his features later). The locks separate the sea water of the Puget Sound from the fresh water of Lake Union and Lake Washington. If you like your marine activities then it's fun just to watch all the different size boats navigate through the locks. What is 'unique' about the locks though is the Fish Ladder – providing a route for the salmon to migrate from fresh water to sea water and vice versa through a series of 'ladders'.  A viewing glass has been built into the ladder so you can watch the fish make their journey. You can usually a spot a seal or two as well, capitalizing on the ladder attracting the fish.
The locks and surrounding area are very scenic and it's worth having a walk around, especially the 7 acre Botanical gardens which sit alongside the locks.
9pm
A great way to cap the day and night off, head to the 24 hour diner that is 13 coins (another recommendation from Peter). They often have live music playing in their lounge/bar area but even if they don't the playlist is usually a modern upbeat vibe. Grab a booth or a stool at the bar and order up a local brew and a a cheeseburger. The portions are big and they give you a very generously sized bread basket to start. This is one of my go-to food places when in Seattle.
Saturday 10am
One of the best museums I've been to anywhere is infact the EMP Museum (Experience Music Project), a music and sci-fi museum with some excellent exhibits and great interactive technology. You can happily spend half a day if not more in the museum.
To get there you can take the monorail from Downtown, it costs more or less the same as a journey on your metro card in New York and you get to see the city from a different perspective.
When you're at the EMP Museum you have to check out the huge (too huge to fit in one photo) guitar installation and also the Sky Church (another museum feature too big to fit in one photo). The Sky Church is a huge (33 foot high by 60 foot wide) HD LED screen with sound system to match. It's sadly not something you would casually install in your apartment or acquire from BestBuy!
2pm
You could utilize the Pop Kitchen – the cafe within EMP but better idea is to take a short walk down to The 5 Point Cafe. It's a greasy spoon but it does good food at a good price for lunch.
From here it is a 20 minute walk or 15 minute bus ride to Kenmore Air in North Seattle. The great thing you can do at Kenmore Air is take a tour of Seattle on a Seaplane. When I did this it was genuinely one of the best experiences of my life, amazing fun. This was especially so as you can ride in the co-pilot seat if you like – I highly recommend this and suggest you get there early to be the first person on board to nail that seat down!
5pm
Head back to Downtown and to Pike Brewery. America is great for having plenty of micro breweries and Seattle is no exception. If you have time take a tour of the brewery itself, if not then the pub has plenty of good beer and charm to offer. I recommend getting a tasting board – 6 1/6 of a pint of 6 different beers. It's a great way to try all the different beers on offer and no doubt you will find a couple which will encourage you to stay longer.
There is a great quote on the wall as you come in which I particularly like:
"for a quart of ale is a dish for a king".  Shakespeare knew what he was talking about.
 7pm
The last time I was in Seattle we ate out at this restaurant, RN74, the food, wine and cocktails (recommend the Downtown Donkey) were all excellent. The decor  is styled in a French train station theme, not a theme you often see but done superbly. The wines are listed up on a departures esque rotating board adding to the theme of the restaurant.
The food is reasonably priced for the type of restaurant and cooked superbly. If you were going to treat yourself to a nice meal out at somepoint over the weekend then it is well worth checking this restaurant out.
9.30pm
There's only one place to go on a Saturday night for nightlife and that's Capitol Hill. While unfortunately I haven't tested, or tasted, many of the places there so far you will be hard pushed not to find a bar to your liking. I've done both Karaoke at Rock Box (the most international Karaoke I have ever done, not often you have native Russian, Polish, Chinese speakers or for that matter a Karaoke bar with songs in Russian, Polish and Chinese!) and Bocce Ball at Rhein Haus. Bocce Ball is very similar to bowls, unfortunately I am not particularly good at either. It's a lot of fun and Rhein Haus itself is, as you may have guessed, a German styled Beer Hall too.
Sunday 10am
End the trip with a trip over to West Seattle and Seacrest Parkon the water taxi, it's no extra cost if you have an ORCA card (read metro or oyster) but even if you don't it's only a couple of dollars each way. You get really nice views of the waterfront of both sides of Seattle and you may well see some more seals. Once at the Seacrest Park, Alki Kayak tours offer a range of different sports you can do – from kayaking and paddle boarding to cycling or skating. Whichever takes your fancy there's some really nice scenery around and it's a great way to wind down your trip.
Lodging
Each time I've been to Seattle I've stayed in a different hotel. The last time I stayed in the Hotel Max which styles itself as 'edgy but chic' but seems to translate as an excuse to cut corners. The other two hotels – Paramount and Andra were both very good stays (on one occasion there was a mixup with the room booking dates which led to a rather nice upgrade for one night to a room that resembled more of an apartment than a hotel room, it might actually have been bigger than my apartment). I would look at the locations and prices for both and choose on that basis.
Post-Script:
If you have time and they are playing I also recommend: Seattle Sounders – one of the best supported "soccer" teams in the US. Saw them play a friendly vs Spurs and it was a very good atmosphere.