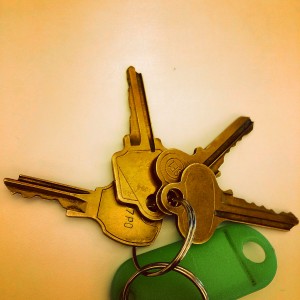 It's Thanksgiving in America so I'm going to make the most of a couple of days off and cold weather outside (it's been snowing) to update the blog. In the last post I detailed the process of finding and securing an apartment. You would usually think that is the hardest part of moving in, especially when all you have to move are a couple of suitcases and a badminton racket. Not entirely true..
The apartment was available to move into before my AirBnB was up but I'd made an agreement with my landlord to pay from the moment it was available and he'd add on the difference in days  for 'free' at the end of the contract. I therefore had the keys to my apartment about 10 days before I needed them. A day or two after I received them I thought I'd show my manager, Judy, the apartment.
Here-in I encountered two problems. When we left the office I didn't actually make a note of the apartments address, I had also only been there once and I was less than a month into my time in New York. In short my knowledge of the area wasn't great. Navigating by landmarks, such as basketball/tennis courts I got to where I thought my apartment was. There were two buildings next to each other which are of almost identical style. I was fairly certain mine was the second building, I should also point out I still wasn't 100% sure I was on the right street. After much fiddling with about 5 keys, Judy started vocalizing doubts about whether I had the right door. At last though, I managed to open the door. Hallelujah I had found the right place. I knew my own apartment was 2F but I couldn't remember if I'd gone up 1 or 2 flights of stairs when I viewed the apartment. Not all doors had numbers and letters on either.
Through deduction we managed to work out the door which must be 2F, there was a 2E and a 2G so it actually wasn't so hard. I thought. When I had collected the keys from the landlord he'd mentioned how the locks sometimes needed a little jiggling and the top and bottom locks opened in different directions. After much fiddling with the keys, I was getting quite frustrated. I could fit two keys into both locks but only 1 key would turn properly. With one lock opened you could see a small gap between the frame and the door. I tried forcing the issue a bit but obviously didn't want to break the door.
I knew the Super lived downstairs so I knocked on her door. Unfortunately she was out but her son answered. After he tried the door it was decided the door was broken. He would talk to his mum mom and the door would be fixed for when I needed to move in.
A couple of days later or so I got a text from the Super saying the door was fixed. Great news!
Move out and move in day arrived, it was a superb day. It started well. I was hungover. It got better. The bathroom of my AirBnB flooded. Finally ready to move out. I got a taxi over and got my suitcases (and badminton racket) up the stairs. This all went surprisingly well. What I wasn't anticipating was to struggle with the door again. It wouldn't open. But that made no sense, the door had been fixed..
I struggled for probably 10 minutes or so. I then went and knocked on the Super's door. No response. Knocked again. Still no response. I went back up stairs and rang the Super's mobile. voicemail. This wasn't a great scenario. I had moved out of my AirBnB but couldn't get into my new apartment. I texted the Super and explained. Meanwhile I sat on my suitcase outside my apartment, unshaved and looking generally a bit harassed, got a few curious glances and a few courteous greetings from neighbors. I wasn't sure what to do.
A few minutes later I got a text back from the Super explaining that she was actually on her way to New Jersey for the weekend and wouldn't be back until Sunday night (this was Saturday morning!). Bruce, the Landlord was also unavailable at that time. After some texting back and forth, from my POV it was 'Well it's my apartment, I have the keys, you said the door was fixed, what am I meant to do?', she decided she had no choice but to turn back.
By this point, the neighbour opposite me, also a colleague of my broker in fact, had come back. He inquired after the situation and explained he had to briefly pop out but would be back in about 15 minutes and he'd try and help then. True to his word when he got back he said I could try accessing the apartment through the fire escape. He let me into his apartment and allowed me to climb out through his bedroom window onto the fire escape. He had to leave again at that point but kindly trusted me to see myself out.
So there I was, in the midst of the New York summer and about a month into my time in the continent,country,city trying to move into my new apartment by climbing through a window on the fire escape. I wasn't having much luck either, there was a metal door over the inside of the window which was locked. While I could open the window a fraction there was no way I could get through the bars or unlock them. I was at least assured the Landlord was right when he said no one would try and burgle the building.
Eventually the Super arrived. She was as surprised as I was that the keys I had didn't work. Turns out the Landlord had given me the wrong keys. Luckily she had a set which worked so about 2-3 hours later than anticipated I was in, I officially had the right keys to my apartment! I was now living in Manhattan.