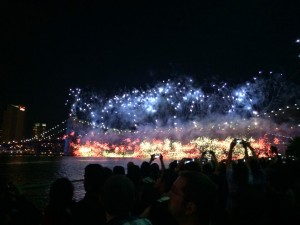 After a brief pause, to talk Seattle in my last post, I'm pressing play again on New York. Given it is the holiday season it seems a relevant moment to write about the various holidays I've experienced to date in New York. Given the fewer holiday, or is that vacation(?) time Americans receive compared to their UK compatriots it seems fair that America goes BIG on the holiday front. So far I have experienced a few: Independence Day, Halloween, Thanksgiving and, of course, Christmas.
Independence Day came shortly after I arrived in New York. What an introduction to American life. It was a beautifully hot day and came after an excellent night out in Williamsburg where my Instagram account was founded in a dive bar. This has nothing to do with the 4th of July except  to say I was slightly hungover that day. The founding of my Instagram account (@outhereinthefield) warranted a mention in a blogpost though and this seems the most apt time to introduce it formally. Incidentally the account was supposed to be titled 'Out there in the field' – as a tip of the hat to one of my favourite songs, 'Baba O'Riley' by The Who' (speaking of, I love this clip) , which was playing in the bar at the time sadly a 't' got lost in translation.
I digress. Every year Macy's put on a firework show, I had arranged with Judy to meet up and watch the fireworks in the evening. Before then I took the opportunity to take a wander around Brooklyn. What was particularly evident was the number of US flags everywhere, this is something noticeable outside of July 4th  but even more prominent on this day. It's quite a contrast to England, where the presence of a St George's flag is usually reserved for big sporting events or otherwise risk being associated with heavy right wing leaning politics when displayed prominently.
The fireworks themselves were extremely impressive and up there in the top 2 fireworks I've seen – the other contender coming from when I was sat in Carcassonne (where coincidentally I also had one of the best meals I've had) watching fireworks on Bastille Day. I don't often compliment France, but they won at that day. The fireworks here were staged on several barges in the East River, complete with a Manhattan skyline backdrop, and there were a series of blazes set off from the Brooklyn Bridge – often disguising the fact there was actually a bridge under all the light.
Halloween was the next significant holiday. Although technically not a holiday, given the importance attached to it in the US, it certainly feels like it should be. Fall (or Autumn as I learnt it is still sometimes referred to) blends seamlessly into Halloween as pumpkins start to pop up. Before Halloween itself what highlighted  unmistakably how serious Halloween is taken was from a trip to Suburbia. Garden City precisely, with Axelle a visiting friend from the London office (visitors I've had is a whole 'nother blogpost though!).
Every house (and 'yard' for that matter), was decorated like a tree at Christmas. Whether the house had kids or not appeared irrelevant – it was literally every house. From larger than lifesize spiders and cobwebs attached to houses, to graveyards in the front yards it was quite a sight. That's not even mentioning the pumpkins. So many pumpkins.
Now, Halloween itself. I guess I was more prepared for the fact it might be an event given what I had experienced in Garden City. However that was Suburbia, this was New York City. I'd read somewhere, probably Timeout, about the 'Halloween Parade' that New York holds. From what I'd read I imagined a couple of blocks where a bunch of people in costume could show off while others watched. Then my landlord also mentioned it, he seems rather excited to have an English tenant and uses every opportunity to make a reference about America and England's relationship or to give me a tip on what to do during a special event in New York.
The day before Halloween I'd been to a gig in the Brookyln Bowl and saw a band I wasn't particularly familiar with – The Dum Dum girls. They had even gone to the lengths of dressing up for their gig in Halloween-esque costumes and ended the gig with a cover of the Cranberries, 'Zombie'.  I could see the tone was beginning to be set.
Halloween itself was a Friday which worked well, we finished early for some Halloween drinks. One of my colleagues used to be a Bartender so we are always well treated by her cocktail concoctions. In the office that day we also had a visitor, Chris, from the London office who joined a few of us for the Halloween Parade.
The Halloween Parade was bigger than I expected. Which I should have expected, this is New York City, USA. Things aren't done small. It was more than a just small street, it was a mile long and lasted several hours. Some of the costumes being worn were serious efforts as well. From swinging skeletons to dancing dinosaurs with a good smattering of zombies in between it was excellent. I also particularly liked the topical Ebola effort from someone.
Thanksgiving was the next event, following nearly a month after Halloween. While Halloween is  celebrated in some form in the UK, Thanksgiving was an entirely new holiday for me. It seemed a rather strange, Christmas-esque holiday in that Christmas decorations were already up, everyone flies home to their families then they stuff themselves with food including roast turkey. I couldn't quite get a hold on the whole thing. Not that I'm complaining about a holiday.
We had a 'potluck' in the office – I'm not sure if there's a comparable term in the UK but the concept is everyone brings one dish to a meal. I would hazard a guess this doesn't normally involve 25+ people though. I volunteered to bring the pecan pie, I had intended on making it in my kitchen, partly to prove a point that my kitchen was capable of this 'feat'. I even went so far as to obtain a recipe off a friend for the pecan pie. Unfortunately I had to work late that week so didn't get an opportunity to cook it. A dash to Whole Foods in the morning solved this problem though.
As could be expected with 25+ people and turkey, we had a LOT of food in the office. As is compulsory in these situations my plate was full to the point food was in danger of falling off the plate. It was righteous.
Thanksgiving itself was a low-key affair, although as is apparently Americans want there was a parade. The Macy's Thanksgiving Parade (Another recommendation from my Landlord among others) was a must-see. I would say the crowds were larger than the Halloween Parade, although I preferred the Halloween Parade. I watched it from Bryant Park, near the Public Library, it was a freezing cold day and not the best time to be standing still. It was fun to watch though. The kids especially (not mine I hasten to add, just generally kids) were very excited which made for double entertainment. There was a very strange float which I have yet to identify (if you can help leave a comment!) which a very small girl to my right seemed extremely excited by.
To my left was a small boy who looked very akin to the Home Alone kid, his dad had brought him along complete with..step ladder. Incredible planning. No aching shoulders for the dad. The kid gets the best view. Could there be a downside? Well, the kid gave the best commentary out of anyone – he seemed to know the family history for each float/character going several generations back and if there was a theme tune – he knew the words to it.  His dad seemed slightly taken aback "How much TV do you actually watch?", he asked. Highlight for me was seeing a fellow expat, Paddington Bear.
Of course I made the most of Thanksgiving to watch the best Thanksgiving movie ever produced – Planes, Traines and Automobiles. I've watched it many times at my parents house but this was the first time I'd been able to watch it in America, let alone on the Thanksgiving day itself! Small things.
The last holiday to date, is obviously Christmas. While I've been in the UK for Christmas itself I was still able to feel some of the Christmas atmosphere in New York and in fact DC – where I had to go for a day. There isn't much to say more a few observations:
How much I didn't miss Oxford Street Christmas shopping – I think with New York streets being wider and possibly a lower population density, it feels less crowded on the streets
Some great Christmas markets, I've never felt London has done a great job with Christmas markets. You've got the few on the Southbank but that's it. There was a great Christmas market in Union Square and several others including Columbus Circle and Bryant Park
Wreaths – New York and DC both loved their wreaths – even the lions outside the Public Library got in on the act
Lots of Christmas trees for sale.  Never seen anything like it, on every street corner it felt like in Manhattan was a pop up stall selling Christmas trees. I guess they're more available than in the UK – a lot of ours are imported from Norway.
UK still rules on the food front though, I saw no sign of mince pies in New York, I doubt they've ever heard of ice cream Christmas pudding, and brandy on Christmas Pudding – that's a new one for them!
You also can't beat a good old English pub on Christmas Eve with the local silver band and your mate playing a dodgy piano. You then wake up slightly hungover the next day, eat and drink too much and then roll yourself out of the house into the English countryside for a walk!