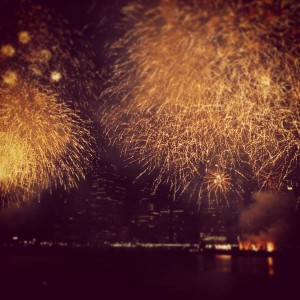 In an effort to catchup to present times this is my second post in under a week. I also received criticism for my last blogpost and am eager to make amends. Rob Kingdom take note. This will round up the second two weeks or so of my time in New York and conclude my first month in Brooklyn. There were a couple of other events which occurred while I lived in Williamsburg, however these are more suited to being summarised in a dedicated blogpost.
Two of the biggest events which occurred in that first month that I will write about here were the World Cup and that small matter of the Fourth of July. The Americans have plenty of experience of one, not so much of the other. Want to take a guess which is which?
An initial worry when moving was that the World Cup would be a non-starter in New York, no one would care about it, you would be unable to have a conversation about it, you would struggle to find places showing it; those that did wouldn't have large crowds in them cheering loudly. I was happily proven wrong here. It took me by surprise how popular and big it was, talking to colleagues it seemed to take many Americans by surprise as well. In the office we had a projector up with all the matches (US or not) being streamed from ESPN. Lunch times became a social gathering in the lounge area to eat food and watch some of the game.
The American matches were something else though. Americans know how to do sport. They take their sport very seriously as well. Probably why they're so damn good at it. This relatively new found passion for the game was great for me though, easing the transition from the UK to the US. It is genuinely very interesting just learning about 'soccer' as a concept/sport over here. It is the second most popular youth sport and the facilities for playing it I would say are better than London. Previous World Cups didn't attract as big a following as this years yet it still loses a lot of 'fans' once the tournament was over. I also read today that the first 40 members of the Man Utd supporters club in USA were Brits, now 95% of the members are Americans. I think it will get there and believe the US are closer to reaching a World Cup final than England are right now.
From new American to old American, though new for this (pseudo) 'American'. July Fourth.  I've learnt, seen and discovered Americans love their country most of the time regardless of the day, yet this patriotism is turned up to 11 on Independence Day. Flags everywhere, parties, plans, imagine the Royal Wedding – but done by Americans.
The fireworks this year were  done from the East River, for a good few years previously it had been done on the Hudson so it suited me much better to have it on the East side this year. I watched it with Judy from the Brooklyn Bridge Park (that is, watched the fireworks from the Park, not like Jenny from the Block but Judy from the Park). Fireworks were pretty good. It certainly beat standing in a cold wet street in London surrounded by thousands of people waiting for the New Year.
I'm probably not being very fair here. I was warned beforehand, and told posthand (such a thing?) Americans are very enthusiastic about everything.  So in lieu of being in America and having to dial down by British cynicism – the fireworks were amazing.