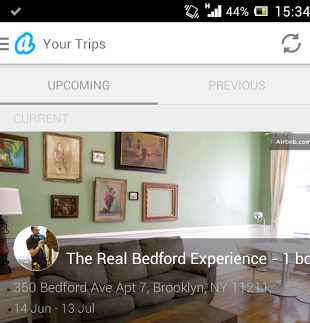 Been a little while, parents and sister have been visiting for the week so been trying to do New York in 7 days. It is a challenge I implore you to think carefully about before necessarily trying to repeat yourself. Regardless, picking up from the last post where I had just jumped on the plane to New York this post will divulge some of the details from my first month in the City That Never Sleeps.
I happened to be flying at the same time as England were playing Italy in their first World Cup match. Through a combination of intermittent, dodgy Wi-Fi and some browser add-0ns, I managed to convince the BBC iPlayer I was infact in England, while I was actually flying over the Atlantic. The short of it being, I was lucky enough to spend some of the flight watching England lose.
Off the flight being a non-US national meant I enjoyed the pleasure of having to queue more.  I finally reached the desk/booth and handed over my VISA and accompanying documents. I also experienced what was to be the first of many great friendly services from Americans. The official was clearly intent on enjoying his job and was enjoying some, what us Brits would call 'Banter', with everyone who passed through. I was no different – coming through with a laptop bag, carry-on and badminton racket, I got asked in reference to the racket whether  "[that is] for your protection?". Small details but making a boring experience more light hearted.
Upon coming out of the airport I was confronted by a long taxi queue and no taxi's in sight. I was tired, it was late, I saw some Uber cars waiting for pick up. One asked me if I was such-and-such-a-person. There was a further short exchange of words, here was an Uber driver apparently tired of waiting for his passenger, here was a tired but potential passenger. To cut to the chase, if you were in JFK on the 14th of June at around 9pm and your Uber wasn't there…I'm sorry, I hope you understand!
I got to the apartment with no problem thanks to the Uber driver. I had an arrangement to meet the housekeeper for the AirBnB host at the apartment. If I was there early, I was told how I could get into the apartment. I was a little early but succeeded in collecting the keys and lugging my baggage up the stairs (only 1  flight luckily).  However I couldn't get into the apartment, no matter what I tried I couldn't work out how the keys worked.  I had to wait a short while for the housekeeper but once she arrived she explained how to massage the door to get it to open.
 The apartment was great and met all my needs, it had a couple of interesting quirks in the decorating though.
But location-wise, it was a 10 minute walk to the subway which took another 5 minutes to get to Union Square, which is a 5 minute walk to the office. It was also next to a cool bar/restaurant, opposite the
best Bagel shop in New York and possibly the world
, and in great vicinity to any number of other Williamsburg spots.
When I say it was 10 minute walk to the Subway, this is what had been described in the advert for the AirBnB and how the housekeeper had described it. She had given me directions to it as well. On the Sunday, my first full day as a New Yorker, I decided the best course of action would be to do a recce of the journey to the Subway. Following the housekeepers directions I headed out confident of the '10 minute walk'.  After maybe 20 minutes I realized I should have found the station by now.  Unfortunately, having just moved over I had no US cell phone – only a UK phone which worked with WiFi. This meant no Google Maps on the go. In the end I kept on walking and followed signs for Brooklyn Bridge. This meant a 10 minute walk turned into an hour walk and then at least another hour back again. However it meant I got to discover a lot of Brooklyn on only my second day and saw the fantastic views of Manhattan from the park. On a less positive note I got sunburnt – a combination of forgetting you're not 'enjoying' a British summer but rather in the midst of a 'cool' New York summer and not planning for such a long walk!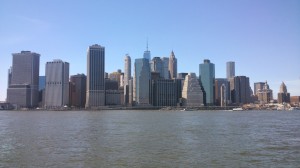 While I was definitely loving being in New York, the first few weeks were tough. I had spent most of my money on relocation and was waiting on expenses to come through. Additionally any other UK money was tied up in my UK bank account – which thanks to Natwest's ingenious security measures meant it was extremely difficult to transfer. It led me to appreciate the smaller things in life though, such as
Annie's 'just add water' Mac and Cheese
 – enough for 3 meals and available in your local supermarket for less than $2.
This was a very troublesome time in my life, coming out of my apartment and being faced with New York's best bagel shop yet having to save the $$ to afford essentials. Needless to say, there came a time when my troubles seemed so far away. This also coincided with a peak in business for the Bagel shop and nearby bars. Pure coincidence I assure you.