A little slow on the updates recently, due to travel and general busyness but it's time to wrap up my time in London. Last weekend marked the 3 month mark to the day that I moved to New York and it's about time I started sharing some American anecdotes. My final weeks (sounds a little ultimate right?), in the UK were mostly spent seeing people and getting last minute things sorted..
Aside from the partying/pubbing, there were three important matters to sort. In no particular order, I'll let you decide the importance: 1. Find somewhere to live in New York, 2. Find someone to take my room in the flat, 3. Get all my stuff back to the parents.
Finding somewhere to live, there was a choice I'd made a while back – corporate apartment or AirBnB. I had a relocation budget and the corporate option would have eaten up over half of that. I made the choice to go for AirBnB. This was slightly stressful as it was getting closer and closer to my move date and I had no apartment. I'd already gotten flexible with price and location, but the break-through came when I put everything into a spreadsheet and created a scoring system. It worked. My approach led me to getting the apartment top of my scoring chart.
Getting a new tenant in I thought would be easy, it's a good sell – converted spacious warehouse apartment, prime North London location, bills included. I used SpareRoom again to advertise, yet I wasn't getting the responses I wanted. Based on this performance I took an advert out on SpareRoom to give my  ad more prominence. It helped but still not perfect. I then optimized (with a z) the advert. Re-worded it, changed the emphasis I put on the 'selling points', call it an A/B test if you will. It worked, I got two very interested people (one who wanted to move in that very day he messaged me!). I thought it was nailed on I'd ticked this box. What I didn't anticipate for was murder. Yes murder. At the end of my road someone had got stabbed, gang related I believe. This was before either potential tenant had visited the apartment. On the day they were due to view the room, the floral tribute had grown to a very substantial size. I genuinely thought I was going to have to cough up at least another months rent as I wasn't going to move the flat before I left town. Apparently murders don't deter people though and both of them put an application in for the flat!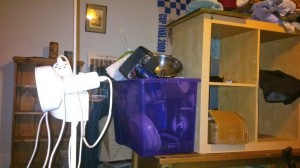 The moving of all my stuff was the easiest part. Though not a piece of cake. One of the aforementioned potential tenants arrived late and exactly the same time as the man with a van. Trying to co-ordinate the van man at the same time as showing the tenant around was tricky! Then the whole journey back in the man's van was spent discussing SEO and Web Analytics and how his website could be improved.
I think my parents were slightly taken aback by how much stuff I had accumulated and weren't wholly delighted that I had apparently put the 'ware' into their house too!
Oxfordshire was great though and we all went out for a meal at The Trout Inn, probably my favourite restaurant in Oxford. Also it was nice to take in some countryside before I departed for the urban/concrete jungle that is New York!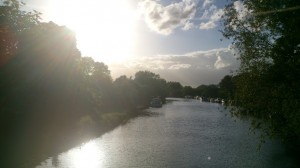 I had 3 or 4 leaving do's lined up in London and a handful of other events with people who couldn't make the leaving do's. One of those was a meetup with Beth (ex-1000heads colleague) who was doing the colour run with her boyfriend. I didn't run but I went and watched it looked so much fun I will definitely do it if I get the chance. You run a course, or walk it, and over the course of the, well, course, you get powdered paint thrown over you. The end result, you look a bit like the bloke below.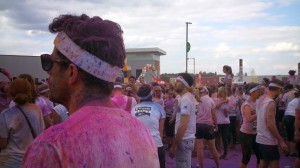 There's not a lot to say about the other leaving do's other than they were great fun. One took place in Smithfields at the same time as a cycling event around the market, with people racing on Boris Bikes and penny farthings. A couple of others took place in the Exmouth Arms, for sure one of my favourite pubs in London.
A leaving gift from work was a photo montage of some of my 'finer' moments. It's a fantastic present and very carefully put together. The only problem was that I had to take it out on my last work leaving do. Luckily it lasted the whole night untouched..until the taxi home. Step up Mr Harry Elwell. I'm in the taxi the picture is in one piece, until Harry falls into the cab. Shattering the glass. Harry was fine, the picture frame not so.
The next day I was meeting Sam and Shez (old hometown friends) for lunch and then Tristan, Jon and Alex (ex-1000heads colleagues) for drinks in the evening. The subsequent day I was flying. In between the lunch and the drinks I managed to find a glass cutters  in Islington. I got there just as he was about to close up  thankfully he was willing to cut it before he did. It was a small cost, maybe £5 – the door said he took card. He didn't and I only had £2 on me.  I may have mentioned it was a leaving present and he accepted 2 quid and said the rest was his donation to my present! Islington has a real community feel compared to other London boroughs I find.
The Saturday (14th June) I met up with Axelle for breakfast/brunch at the aptly named Breakfast Club in Angel. Amrit, colleague from POSSIBLE, had very kindly offered to drive me to the airport. Axelle was super-helpful in some last minute suitcase cramming (!!), before Amrit and a certain Mr Kingdom turned up to drive to the airport. In the end all 4 of us got into the car. Along with my suitcase, laptop and badminton racket. It's super great colleagues to drive/go with you to the airport. Yet, it wasn't without incident. The GPS decided to give me one last scenic tour of central London and some touristy spots. I was sat in the front checking my watch more often than I wanted! We switched up eventually to  using the maps on Amrit's phone instead of the GPS and got there in time! Cue selfie and the last steps before I boarded the plane!
London, it's been emotional