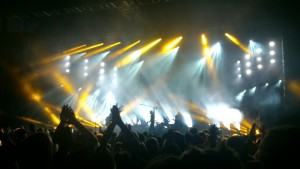 I mentioned in my last post how I saw 43 bands last year, obviously a record I want to beat this year. While so far I'm not off to the best of starts – we're now at the end of February and I have yet to get my gig on, I have just acquired Bruce Springsteen tickets for his last New York date on his current River tour (note I have a spare if you're interested!). A couple of weeks ago I also stumbled on another impressive busking performance, a group called 'Cover Story'. So, with gigs top of mind at the moment it seems like a good time to do a post on my top gigs in New York so far.
-Note in progress: I have managed to pick my top three and think I am happy with the order. However, choosing fourth and fifth out of all the gigs and bands I've seen in New York is proving harder than – to borrow some lyrics from REM – pushing an elephant up the stairs.
-Second note in progress: Number four was tough but the surprise factor edged it. Number five, maybe a bit of a curveball here but I've seen them a few times and consistently raising the bar in terms of energy and the venue itself…
Number 5: Palma Violets – Shea Stadium, March 3rd 2015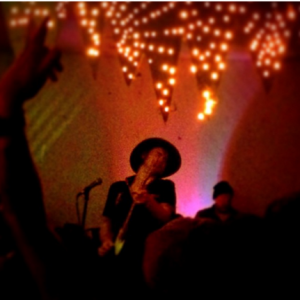 The first time I saw Palma Violets was at a festival in the UK on the Isle of Wight. They had a 40 minute set in the middle of the afternoon but left enough of an impression for me to buy their album. That was in 2013 when they also won NME's Best New Band award. So when I saw this indie/garage-rock band from London was coming to New York I got tickets. Playing at a place called Shea Stadium I wasn't expecting to find myself in the midst of what seemed like an East Williamsburg industrial estate.
My Google Maps skills – while definitely having improved since then, I was still confident had lead me to the right place. I couldn't see any bar, hall, stadium or anything remotely resembling a gig venue with Shea Stadium written on it. Having walked around the block at least once I saw some people entering into a venue, proceeding to follow them I passed my ID, my UK driving license, over to the doorman. Quelle surprise when he is not only English but is originally from a place called Reading, a 30 minute drive from where I grew up. Unfortunately we couldn't continue the conversation much further as it transpired this was not Shea Stadium.
Shea Stadium turned out to be a door across the street which looked like a random side door to some industrial building. Further, it turned out the bloke leaning against the wall next to it was the bouncer. Probably the most unassuming gig entrance ever. Once inside it felt more like a venue you'd find for a local band from your hometown than in NYC. It was a tiny room with the 'bar' consisting of a table and a fridge that looked as though it had been fished out of the Hudson. Never-the-less this all added to the atmosphere and Palma Violets were certainly not deterred, performing with their typical gusto and the whole crowd was definitely up for it. In 2014 they were NME nominated for 'Best Live Band', if you see them you'll understand why!
Number 4: Grouplove/Typhoon/Portugal the Man – Central Park, September 16th 2014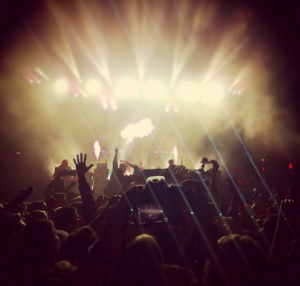 Three months after my move to New York I had already seen a couple of great gigs – The National with support from Lord Huron in Prospect Park and the Counting Crows in Central Park. All of them bands from my bucket list and all very good gigs. The National in particular was a fantastic introduction to New York and one used as a partial incentive to move here. Back to this particular concert however, I bought the ticket on the base of Grouplove being a band I wanted to see live. What I wasn't expecting was discovering two other fantastic bands and an extended set with each of the bands getting significant stage time.
Aside from an entertaining show from all the bands, it was the end of their tour together and they were celebrating suitably. The camaraderie from all the groups added to the show and the gig finished with all three bands on stage to cover Hey Jude. I would have paid the ticket price to see one of those shows so it was a bonus to see the other two and the group encore. Oh and Grouplove also covered The Who's Baba O'Riley, one of my favourite songs and inspiration for my Instagram
Number 3: Jeff Lynne's ELO – Irving Plaza, November 20th 2015

This was ELO's first US gig in 30 years, they were a band I never thought I'd get to see live and it was in an intimate small venue which sold out very quickly. This context in itself likely bumps the gig up a place. I wasn't quick enough at the draw to pick up tickets when they were released, however I set a price over the face value cost that in my mind I would pay to obtain a ticket. Luckily I was able to get a ticket and it was certainly worth every cent.
I got there early but the venue was already packed, luckily I was able to follow someone else who was carving a path through the crowd to a decent spot. The stage, like most of the music, was artistically understated: the familiar ELO logo was illuminated, while several spotlights were also fitted with the ELO calligraphy, then to complete the set were hundreds of light bulbs hung from the ceiling at various heights.
It was a hits-filled set and the energy of the crowd was something else, the gig reminded you of anything Jeff Lynne lacked in terms of a live act, he made up for in song writing. The best part of the concert for me had to be the combination of the crowd's energy and Jeff Lynne and the bands clear enjoyment of the show. 'Turn to Stone' got perhaps the best sing and dance along, "Evil Woman" and "Livin' Thing" followed very closely though!
Number 2: The Airborne Toxic Event – Irving Plaza,  24th September 2015
I've seen the Airborne Toxic Event four times now, twice in the UK and twice in New York. Their last album (strictly their joint-last album, given they released two simultaneously) Songs of God and Whiskey has been one of my hard to put down albums of the last year. They were also the artist I listened to most on Spotify in 2015, 720 streams in total.
However, the first time I saw them in New York I had honestly been disappointed with them, though I put that down partly to the venue – Terminal 5 – a behemoth of a venue where you're packed like sardines and are far from the stage. This performance, at the significantly smaller Irving Plaza was up there with their best though. They admitted during the gig that their label and manager had doubts over performing in such a small venue (the smallest venue they'd performed in New York for a long time). The intimacy of the venue lent itself to the show though, bringing out some of my favorite attributes of the band – more interaction with the audience and storytelling. Those factors, coupled with a fantastic set list made it feel like they were back to their live best and definitely my favorite gig of 2015.
Number 1: The Augustines – Bowery Ballroom, 29th September 2014
I'm not sure this will surprise any or many, Augustines are my comfortable number 1. One of the last bands I saw before I moved to America and one of the first bands I saw here. Live music at its best. I don't think they have a song I dislike, their history is worth researching and they have a documentary being released soon which I helped fund through KickStarter.
The gig itself had high levels to beat after I saw them in Manchester (UK). Their set in Manchester was at least two hours long and their final encore led to them performing unplugged in the audience. Their performance at the amazing Bowery Ballroom didn't disappoint. It had all of the Manchester gig – all of their breath poured into every song and an encore in the audience. But what really capped the gig was after two intense hours – beyond the realm of most bands I've seen, an unplugged encore in the audience of the Bowery Ballroom wasn't enough for them. As the show finale they took the gig out of the venue and onto the street, playing for probably another 30-40 minutes on the street by the subway, the rain far from deterring the crowd or band but actually adding to the atmosphere. They were joined by a former band member at one point and drew in an audience from the bar next door and any other people in the vicinity, whose heads and ears were drawn in by this sight which could yield comparisons of an audience transfixed by a magician and waiting for the next surprise. Just watch the videos and you'll understand why I can't wait to see them again..