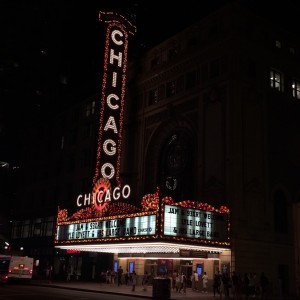 Chicago, home of the Blues and deep dish pizza. And apparently Italian beef sandwiches – though more on that later. It was quite the opposite of the blues which took me to Chicago back in July however. The Red Devils, or rather Manchester United – my football (not soccer) team, were playing a pre-season match there.
As a birthday present to myself I bought tickets to the match and stayed for a few extra days in the city too. This was the first time I had seen Man Utd since I moved to New York, unfortunately while they were in the giving mood I wasn't the recipient.  We lost 2-0 which put a slight dampener on things but there was still plenty to see and eat.
Prior to going over there a colleague from Chicago, Mike, had given me a list of recommendations and local advice. Ranging from the best place to order an Italian beef sandwich and exactly how to order it, to local bars and even a boat tour. This was on top of some recommendations from other non-"Chicagoan's", which ranged from the Chicago Bean to a fast food joint whose USP is that the staff insult you (https://www.youtube.com/watch?v=Ak4fr18wn2s) . Something for everybody apparently.
While I succeeded in accomplishing a significant portion of the recommended to do's there's still items left on that list (including, I'll break it to you now, ordering a hot dog while simultaneously having insults hurled at me by the staff).
Chicago surprised me in several ways; which in hindsight since I went knowing only that it is famous for the Blues, deep dish pizza and was featured prominently in Prison Break, ironically shouldn't surprise me.
Overall the whole city felt significantly more modern than New York, from the subway system to shopping malls and skyscrapers. "Overall" – an important distinction, the lift (elevator) in my hotel looked as though it had last got updated when the Mets were World Series Champions (for those unfamiliar with the Mets history, insert Liverpool and English Champions) and moved about as quickly as Fifth Avenue at rush hour. Thankfully the rest of the hotel could be described with a more positive sports analogy.
Aside from the football what I did in Chicago can broadly be categorized into: walking, architecture, food museums/galleries, and music. Chicago, like New York and Boston, is a very walkable city, which suited me just fine and was almost exclusively my sole means of getting around and seeing everything. There were two exceptions to this – the subway to a gig in a near impossible to find industrial location and a boat tour I took along the river and to the edge of Lake Michigan to explore the cities architecture.
The architecture boat tour was a recommendation from my colleague and a great one at that. It took a couple of hours, sat in the sun on the water, with great insight into the buildings and some of the history of how the buildings came to be. The only downside to this was the unrelenting sun (35C+, 95F), luckily I had bought had a hat – only later did I realize however that I had not taken the tag/hook out of the top of the hat so I can only imagine what a wally* I looked.
Continuing the architecture theme, Chicago is also home to the first water tower in American to become a recognized landmark. Sat amongst more modern buildings it definitely stands out, not to its favour all the time unfortunately, Oscar Wilde is quoted as describing it as "a castellated monstrosity with pepper boxes stuck all over it". While the description without the negative tone is perhaps hard to argue, I liked it. On the theme of towers, another tower I visited was the John Hancock Observatory – 1000 feet up with a 360 viewing area.  It wasn't quite as stunning as the view from the Top of the Rock but not a bad place to see across the city and the lake, especially good if you catch it at sunset like I managed.
Rather than cram everything I did into Chicago into one post, I'll cover the local delicacies (chocolate cake milkshake to name but one), music and museums in a second post next week.
*Interestingly, in America "Where's Wally?" is re-branded as "Where's Waldo?". Based on that I am assuming the term "wally" doesn't necessarily translate across the pond, to that end "wally" refers to a "silly or inept person" (http://www.oxforddictionaries.com/definition/english/wally)