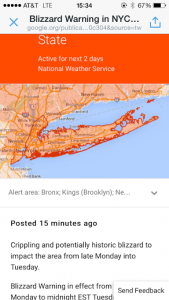 In true British style I'm interrupting this blog to talk about the weather. On January 26th, the New York mayor announced  this: "New York City could see up to 20 inches of snow Monday into Tuesday. This could be the biggest snowstorm in the history of this city. My message for New Yorkers is prepare for something worse than we have ever seen before."
It was towards the end of the week last month and the expectation of a storm was building. As the week ended and we progressed into the weekend the threat had grown even more. I had already experienced some snow and cold in New York, but so far the expectation which had been set when I had first moved to America had failed to materialise. I believed I had been fed a number of horror stories with a pinch (or two) of exaggeration sprinkled in.
A number of times since December I have walked to Irving Farm coffee shop (a 5 minute walk) without a coat, much to clients and colleagues (co-workers) varying concern and surprise. By this time I was expecting the winter to pass without anything of special note except a few dusting's of snow.
Monday morning arrived and there was nothing of great note to speak of. The forecasts were still predicting the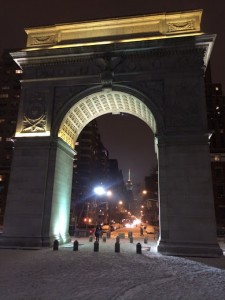 blizzard though and as the morning progressed the update was that several subway lines would close early.  I was slightly disappointed – it all felt a bit like England – where the "wrong type of rain" can bring transportation to a still. What doesn't happen in England, at least not often, is sideways snow. By lunchtime this is what we had,  blizzard(ish) conditions – a lot of snow although not really sticking to the ground.
There was enough in the evening to have turned the city white and I took the opportunity to take a walk down to Washington Square Park to check out the snow scene and grab a few photos. For the most part the roads were almost entirely deserted and it was quite a surreal experience seeing the city so silent (excuse the synesthesia-esque description).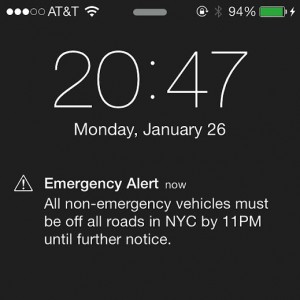 In the evening I got an "emergency alert" pushed to my phone informing me that all cars were banned from the road after 11pm until further notice. I first experienced this alert system in the summer when I received several warnings around flash floods. Apparently this system is designed to allow the President to communicate to the US population within 10 minutes. It's also used for these weather alerts. When I first received one it definitely gave a sense of impending doom – some sort of 28 Days Later/The Day After Tomorrow style expectation.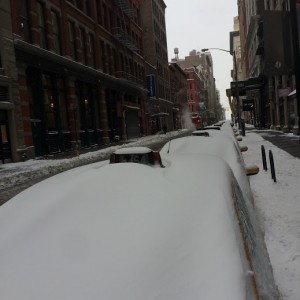 The following day didn't look like a blizzard had hit (it missed; inspiring Michael Fish esque media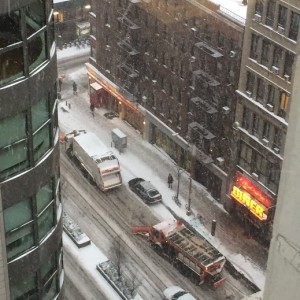 coverage), but there were a significant few inches of snow. It was enough to keep people from getting to work and enough to bring out the snow ploughs. For all this talk of impending doom I can't imagine the headlines in The Daily Mail if snowploughs were seen on the streets of London.  This is another blogpost in itself but The Daily Mail, along with to name just one – Newcastle Brown Ale, is something I'm bemused has made its way over the Atlantic.
I've just finished reading a book about a Britain who was the youngest to reach Everest's summit, so while writing this in a warm apartment I don't feel justified in complaining about the cold, but…